THE ONE STOP APPROACH
31st July 2008
Page 40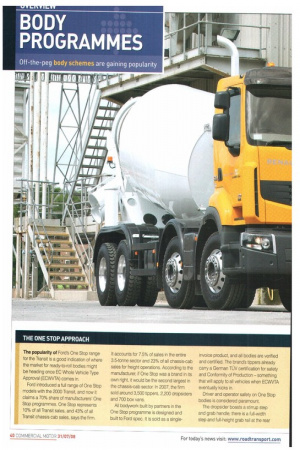 Page 41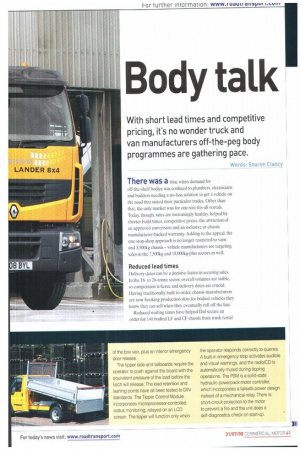 Page 40, 31st July 2008 —
THE ONE STOP APPROACH
Close
The popularity of Ford's One Stop range for the Transit is a good indication of where the market for ready-to-roll bodies might be heading once EC Whole Vehicle Type Approval (ECVVVTA) comes in.
Ford introduced a full range of One Stop models with the 2000 Transit, and now it claims a 70% share of manufacturers' One Stop programmes. One Stop represents -10% of all Transit sales, and 43% of all Transit chassis cab sales, says the firm.
It accounts for 7.5% of sales in the entire 3.5-tonne sector and 23% of all chassis-cab sales for freight operations. According to the manufacturer, if One Stop was a brand in its own right, it would be the second largest in the chassis-cab sector. In 2007, the firm sold around 3,500 tippers, 2,200 dropsiders and 700 box vans.
All bodywork built by partners in the One Stop programme is designed and built to Ford spec. It is sold as a single invoice product, and all bodies are verified and certified. The brand's tippers already carry a German TliJV certification for safety and Conformity of Production something that will apply to all vehicles when ECWVTA eventually kicks in.
Driver and operator safety on One Stop bodies is considered paramount.
The dropsider boasts a stirrup step and grab handle; there is a full-width step and full-height grab rail at the rear of the box van, plus an interior emergency door release.
The tipper side and tailboards require the operator to push against the board with the equivalent pressure of the load before the latch will release. The load retention and lashing points have all been tested to DIN standards. The Tipper Control Module incorporates microprocessor-controlled status monitoring, relayed on an LCD screen. The tipper will function only when
the operator responds correctly to queries. A built-in emergency stop activates audible and visual warnings, and the radio/CD is automatically muted during tipping operations. The PSM is a solid-state hydraulic powerpack motor controller, which incorporates a failsafe power design instead of a mechanical relay. There is short-circuit protection to the motor to prevent a fire and the unit does a self-diagnostics check on start-up.