Stand up for your rights
31st July 2008
Page 26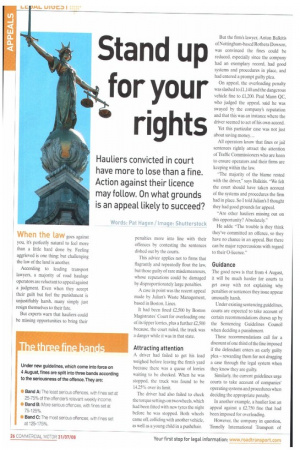 Page 27
Page 26, 31st July 2008 —
Stand up for your rights
Close
Hauliers convicted in court have more to lose than a fine. Action against their licence may follow. On what grounds is an appeal Likely to succeed?
Words: Pat Hagen / image: Shutterstock When the taw goes against you, it's perfectly natural to feel more than a little hard done by. Feeling aggrieved is one thing: but challenging the law of the land is another.
According to leading transport lawyers, a majority of road haulage operators are reluctant to appeal against a judgment. Even when they accept their guilt but feel the punishment is unjustifiably harsh, many simply just resign themselves to their fate.
But experts warn that hauliers could be missing opportunities to bring their penalties more into line with their offences by contesting the sentences dished out by the courts.
This advice applies not to firms that flagrantly and repeatedly flout the law, but those guilty of rare misdemeanours, whose reputations could be damaged by disproportionately large penalties. A case in point was the recent appeal made by Julian's Waste Management, based in Boston, Lincs.
It had been fined £2,500 by Boston Magistrates' Court for overloading one of its tipper lorries, plus a further £2,500 because, the court ruled, the truck was a danger while it was in that state.
Attracting attention A driver had failed to get his load weighed before leaving the firm's yard because there was a queue of lorries waiting to be checked. When he was stopped. the truck was found to be 14.25% over its limit.
The driver had also failed to check the torque settings on two wheels, which had been fitted with new tyres the night before he was stopped. Both wheels came off, colliding with another vehicle, as well as a young child in a pushchair. But the firm's lawyer, Anton Balkitis of Nottingham-based Rothera Dowson, was convinced the fines could be reduced, especially since the company had an exemplary record, had good systems and procedures in place, and had entered a prompt guilty plea.
On appeal, the overloading penalty was slashed to £1,140 and the dangerous vehicle fine to £1,200. Paul Mann QC, who judged the appeal, said he was swayed by the company's reputation and that this was an instance where the driver seemed to act of his own accord.
Yet this particular case was not just about saving money...
All operators know that fines or jail sentences rightly attract the attention of Traffic Commissioners who are keen to ensure operators and their firms are keeping within the law.
"The majority of the blame rested with the driver," says Balkitis. "We felt the court should have taken account of the systems and procedures the firm had in place. So I told Julian's I thought they had good grounds for appeal.
-Are other hauliers missing out on this opportunity? Absolutely."
He adds: "The trouble is they think they've committed an offence, so they have no chance in an appeal. But there can be major repercussions with regard to their 0-licence."
Guidance The good news is that from 4 August, it will be much harder for courts to get away with not explaining why penalties or sentences they issue appear unusually harsh.
Under existing sentencing guidelines, courts are expected to take account of certain recommendations drawn up by the Sentencing Guidelines Council when deciding a punishment.
These recommendations call for a discount of one third of the fine imposed if the defendant enters an early guilty plea rewarding them for not dragging a case through the legal system when they know they are guilty.
Similarly, the current guidelines urge courts to take account of companies' operating systems and procedures when deciding the appropriate penalty.
In another example, a haulier lost an appeal against a £2,750 fine that had been imposed for overloading.
However, the company in question, Tinnelly International Transport of Rostrevor in Co Down, had eight previous convictions for overloading offences since 2003.
The problem is that courts can choose to ignore the guidance if they wish. The only way a haulier can establish the reasoning behind a disproportionately harsh sentence is by appealing against the ruling and running the risk that, if they lose, they could end up with an even bigger penalty — plus legal costs.
The new sentencing guidelines will, for the first time, place a statutory obligation on courts to justify 'harsh' sentences, or those that fall outside of the recommended ranges.
This does not mean courts are dutyhound to stick to recommended fines or penalties laid down in the guidelines. It does mean, however, that any hauliers slapped with heavy-duty penalties will at least get an explanation why, which will allow them to decide whether or not they have grounds for appeal.
Limited knowledge
The new guidelines also split fines into three bands according to the seriousness of the offence (see Reasons to appeal).
"These new guidelines arc the most extensive ever produced," believes Balkitis. "It means that courts now have to give their reasons when sentences are outside the recommended range.
"At the moment • operators have a limited knowledge of the appeals process. We don't tend to get any coming to us seeking advice on what their chances are of succeeding in an appeal." Tim Culpin, transport lawyer with Chester-based Aaron and Partners, says he's been involved in successful appeals in the past. where magistrates have arrived at a specific figure for the penalty — in one case £1,227 — but offered no explanation whatsoever as to how they had decided on it.
"They clearly followed guidance from somewhere, but we could not figure out where."
In most cases, clients are led by the advice of their legal representatives. However, if they insist on pursuing an appeal against that advice, it can pose problems, says Culpin.
"You give them advice and warn them of the possible consequences, then it's up to them.
"But if they say, 'I'm guilty and I want you to get me off', I cannot go into court and lie on their behalf." m
Further information
Go to wwvv.sentencing-guidelines. gov.uk and click on 'Definitive & draft guidelines', then click on 'Magistrates' Court Sentencing Guidelines'.