increase' in truck crime
31st July 2008
Page 15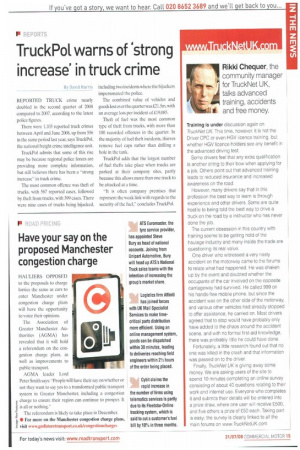 Page 15, 31st July 2008 —
increase' in truck crime
Close
By David Harris REPORTED TRUCK crime nearly doubled in the second quarter of 2008 compared to 2007, according to the latest police figures.
There were 1,103 reported truck crimes between April and June 2008, up from 556 in the same period last year, says TruckPol, the national freight crime intelligence unit.
TruckPol admits that some of this rise may be because regional police forces are providing more complete information, but still believes there has been a "strong increase" in truck crime.
The most common offence was theft of trucks, with 567 reported cases, followed by theft from trucks, with 399 cases. There were nine cases of trucks being hijacked, including two incidents where the hijackers impersonated the police.
The combined value of vehicles and goods lost over the quarter was 121.5m, with an average loss per incident of £19.085.
Theft of fuel was the most common type of theft from trucks, with more than 100 recorded offences in the quarter. in the majority of fuel theft incidents, thieves remove fuel caps rather than drilling a hole in the tank.
TruckPol adds that the largest number of fuel thefts take place when trucks are parked at their company sites, partly because this allows more than one truck to be attacked at a time.
-It is often company premises that represent the weak link with regards to the security of the fuel," concludes TruckPol.