Home Office withholds data on 'fence jumpers'
31st July 2008
Page 13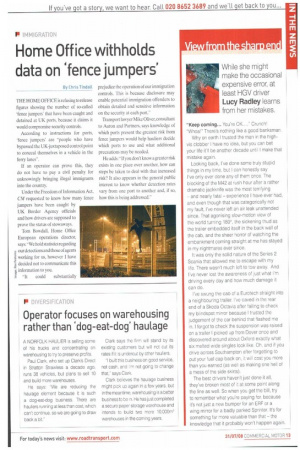 Page 13, 31st July 2008 —
Home Office withholds data on 'fence jumpers'
Close
By Chris Tindall THE HOME OFFICE is refusing to release figures showing the number of so-called 'fence jumpers' that have been caught and detained at UK ports, because it claims it would compromise security controls.
According to instructions for ports, 'fence jumpers' are "people who have bypassed the UK-juxtaposed control point to conceal themselves in a vehicle in the ferry lanes".
If an operator can prove this, they do not have to pay a civil penalty for unknowingly bringing illegal immigrants into the country.
Under the Freedom of Information Act, CM requested to know how many fence jumpers have been caught by UK Border Agency officials and how drivers are supposed to prove the status of stowaways. Tom Bowdall, Home Office European operations director, says: "We hold statistics regarding ur6, o detections and those of agents 11, working for us, however I have decided not to communicate this . information to you.
3 "It could substantially prejudice the operation of our immigration controls. This is because disclosure may enable potential immigration offenders to obtain detailed and sensitive information on the security at each port."
Transport lawyer Mike Oliver, consultant to Aaron and Partners, says knowledge of which ports present the greatest risk from fence jumpers would help hauliers decide which ports to use and what additional precautions may be needed.
He adds: "If you don't know a greater risk exists in one place over another, how can steps be taken to deal with that increased risk? It also appears in the general public interest to know whether detection rates vary from one port to another and, if so, how this is being addressed."