NEW 150-POINT AUTOMATIC LUBRICATION SYSTEM
31st July 1964
Page 32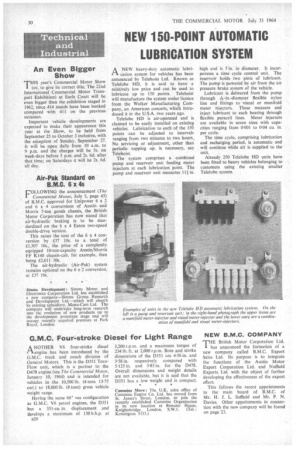 Page 32, 31st July 1964 —
NEW 150-POINT AUTOMATIC LUBRICATION SYSTEM
Close
rtA NEW heavy-duty automatic lubrication system for vehicles has been announced by Telehoist Ltd. Known as Telelube HD, it is said to have a relatively low price and can .be used to lubricate up to 150 points. Telehoist will manufacture the system under licence from the Walker Manufacturing Cornpany, an American concern, which introduced it in the U.S.A. two years ago.
Telelube HD is air-operated and is claimed to be easily installed on existing vehicles. Lubrication to each of the 150 points can be adjusted to intervals ranging from two minutes to two hours._ No servicing or adjustment, other than periodic topping up, is necessary, say Telehoist.
The system comprises a combined pump and reservoir unit feeding meter injectors at each lubrication point. The pump and reservoir unit measures 111 in. high and is 5 in. in diameter. It incorporates a time cycle control unit. The reservoir holds two pints of lubricant. The pump is powered by air from the air pressure brake system of the vehicle.
Lubricant is delivered from the pump through -&-in.-diameter flexible nylon line and fittings to visual or manifold meter injectors. These measure and inject lubricant to each bearing through flexible paracril lines. Meter injectors are available in seven sizes with capacities ranging from 0.001 to 0.04 cu. in. per cycle.
The time cycle, comprising lubrication and recharging period, is automatic and will continue while air is supplied to the unit.
Already 250 Telelube HD units have been fitted to heavy vehicles belonging to customers using the existing smaller Telelube system.