Air-Pak Standard on B.M.C. 6 x 4s
31st July 1964
Page 32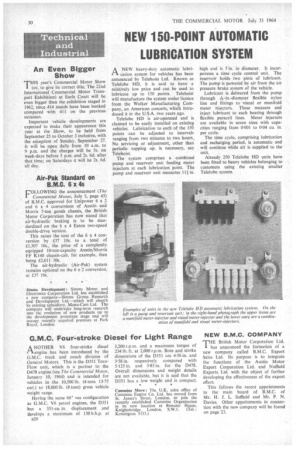 Page 32, 31st July 1964 —
Air-Pak Standard on B.M.C. 6 x 4s
Close
FOLLOWING the announcement (The Commercial Motor, July 3, page 45) of B.M.C. approval for Unipower 6 x 2 and 6 x 4 conversions of Austin and Morris 7-ton goods chassis, the British Motor Corporation has now stated that air-hydraulic braking is to be standardized on the 6 x 4 Eaton two-speed double-drive version.
This raises the cost of the 6 x 4 conversion by £37 10s. to a total of £1,307 10s., the price of a completely equipped 10-ton-capacity Austin/Morris FF K140 chassis-cab, for example, then being £2,611 10s.
The air-hydraulic (Air-Pak) system remains optional on the 6 x 2 conversion, at £37 10s.
Simms Development: Simms Motor and Electronics Corporation Ltd. has established a new company—Simms Group Research and Development Ltd.—which will absorb its existing subsidiary, Mono-Cam Ltd. The company will undertake long-term research into the evolution of new products up to the development prototype stage and will occupy recently acquired premises at Park Royal, London.