ALTERNATIVE REQUEST REFUSED B ECAUSE the application as published did not
31st July 1964
Page 29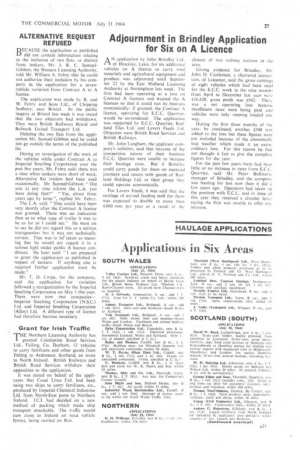 Page 29, 31st July 1964 —
ALTERNATIVE REQUEST REFUSED B ECAUSE the application as published did not
Close
contain information relating to the inclusion of two flats, as distinct from tankers, Mr. J. R. C. SamuelGibbon, the Western Licensing Authority, told Mr. William A. Febry that he could not authorize their inclusion by his cornpany in the application for a sevenvehicle variation from Contract A to A licence, The application was made by R. and W.Febry and Sons Ltd., of Chipping Sodbury, near Bristol. At the public inquiry at Bristol last week it was stated that the two objectors had withdrawn. They were British Railways Board and Bulwark United Transport Ltd.
Deleting the two flats from the application Mr: Samuel-Gibbon said he could not go outside the terms of the published list.
During an investigation of the work of the vehicles while under Contrast A to Imperial Smelting Corporation over the past five years, Mr. Febry said, there was a time when tankers were short of work, Alternative fiat trailers had been used occasionally. Mr. Samuel-Gibbon: "Did you at any time inform the L.A. you were doing that?" "Yes, about three years ago by letter ", replied Mr. Febry.
The L.A. said: "That could have been very shortly after the Contract A licence was granted. There was no indication then as to what type of trailer it was to be as far as T could see." He went on to say he did not regard this as a serious transgression but it was not technically correct, That was to be. taken as meaning that he would not regard it in a serious light under public A licence conditions. He later said; "I am prepared to grant the application as published in respect of tankers. If anything else is required further application must be made."
Mr. T. D. Corpe. for the company, said the application for variation followed a reorganization by the Imperial Smelting Corporation on May 1 this year. There were now two companies— Imperial Smelting Corporation (N.S.C.) Ltd. and Imperial Smelting Corporation (Alloy) Ltd. A different type of licence had therefore become necessary.
Grant for Irish Traffic
THE Northern Licensing Authority has granted Caledonian Road Services Ltd., Felling, Co. Durham, 12 vehicles to carry fertilizers and other goods from Felling to Ardrossan, Scotland, en route to North Ireland. British Railways and British Road Services withdrew their opposition to the application.
It was stated on behalf of the applicants that Coast Lines Ltd_ had been using two ships to carry fertilizers, etc., produced by Imperial Chemical Industries Ltd. from North-East ports to Northern Ireland. I.C.I. had decided on a new method of packing which made ship transport unsttitable. The traffic would now cross to Ireland on road vehicle ferries, being carried on flats.