Adjournment in Brindley Application for Six on A Licence
31st July 1964
Page 29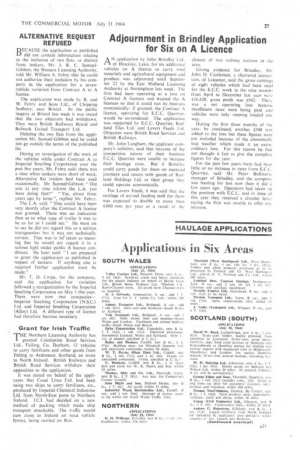 Page 29, 31st July 1964 —
Adjournment in Brindley Application for Six on A Licence
Close
AN application by John Brindley Ltd.. of Hinckley, Leics, for six additional vehicles on A licence to carry road materials and agricultural equipment and produce was adjourned until September 22 by the East Midland Licensing Authority at Nottingham last week. The firm had been operating at a loss on Contract A licences and wanted the A licences so that it could run its business economically: if granted, the Contract A licence, operating for E.C.C. Quarries. would be surrendered. The application was supported by E.C.C. Quarries, Redland Tiles Ltd. and Levers Feeds Ltd. Objectors were British Road Services and British Railways.
Mr. John Langham, the applicant company's solicitor, said that because of the competitive nature of their business E.C.C. Quarries were unable to increase their haulage rates. But if Brindley could carry goods for them on outward journeys and return with goods of Red land Holdings Ltd. or their group they could operate economically.
For Levers Feeds, it was said that the carriage of animal feeding stuff for them was expected to double to more than 4,000 tons per year as a result of the closure of two railway stations in the area.
Giving evidence for Brindley, Mr. John D. Castleman, a chartered accountant, of Leicester, said the gross earnings of eight vehicles which had been used for the E.C.C. work in the nine months from April to December last year were £16,428; gross profit was £942. There was a net operating loss because insufficient rates were being paid and vehicles were only running loaded one way.
During the first three months of the year, he continued, another £500 was added to the loss but these figures were not included because of the abnormally bad weather which made it an extraordinary loss. For this reason he had not thought it fair to give the complete figures for the year.
For the past few years there had been little or no increase in rates from E.C.C. Quarries, said Mr. Peter Bullmore, manager of Brindley. and the corripan was hauling for less now than it did it few years ago. Operators had taken tin the position with E.C.C. and in June of this year they received a circular letter saying the firm was unable to offer any increase.