THE CROSSCOUNTRY IEDFORD 4 x 4
31st July 1964
Page 22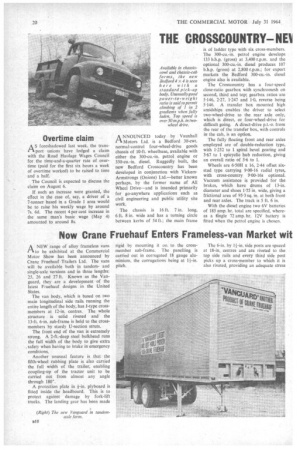 Page 23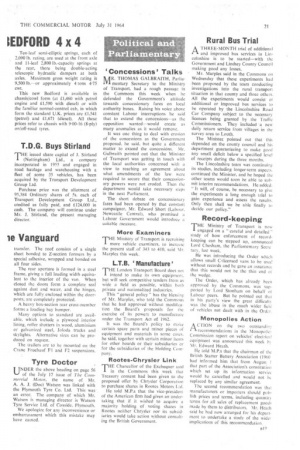 Page 22, 31st July 1964 —
THE CROSSCOUNTRY IEDFORD 4 x 4
Close
Overtime claim
1-1. A S foreshadowed last week, the transport unions have lodged a claim with the Road Haulage Wages Coundil for the time-and-a-quarter rate of overtime (paid for the first six hours a week of overtime worked) to be raised to time and a half.
The Council is expected to discuss the claim on August 6.
If such an increase were granted, the effect in the case of, say, a driver of a 7-tonner based in a Grade 1 area would be to raise his weekly wage by around 7s. 6d. The recent 4 per cent increase in the same man's basic wage (May 4) amounted to around 8s.
A NNOUNCED today by Vauxhall 1-1 Motors Ltd. is a Bedford 30-cwt. normal-control four-wheel-drive goods chassis of 10-ft. wheelbase, available with either the 300-cu.-in. petrol engine or 330-cu.-in. diesel Ruggedly built, the new Bedford Crosscountry has been developed in conjunction with VickersArmstrongs (Onions) Ltd.—better known perhaps, by the former name of All Wheel Drive—and is intended primarily for go-anywhere applications such as civil engineering and public utility site work.
The chassis is 16 ft. 7 in. long, 6 ft. 8 in. wide and has a turning circle between kerbs of 54 ft.; the main frame is of ladder type with six cross-members. The 300-cu.-in. petrol engine develops 133 b.h.p. (gross) at 3,400 r.p.m. and the optional 300-cu.-in. diesel produces 107 b.h.p. (gross) at 2,800 r.p.m.; for export markets the Bedford 300-cu.-in. diesel engine also is available.
The Crosscountry has a four-speed close-ratio gearbox with synchromesh on second, third and top; gearbox ratios are 5.146, 2/7, 1.247 and 1-0, reverse being 5.146. A transfer box mounted high amidships enables the driver to select two-wheel-drive to the rear axle only, which is direct, or four-wheel-drive for difficult going. A direct-drive p.t.-o. from the rear of the transfer box, with controls in the cab, is an option.
The fully floating front and rear axles employed are of double-reduction type, with 1-252 to 1 spiral bevel gearing and 3.67 to I epicyclic hub reduction, giving an overall ratio of 5.6 to 1.
Wheels are 6.50H x 16, 2.44 offset sixstud type carrying 9-00-16 radial tyres, with cross-country 9.00-16s optional. Vacuum assistance is provided for the brakes, which have drums of 13-in. diameter and shoes 1.75 in, wide, giving a frictional area of 95-3 sq. in, at both front and rear axles. The track is 5 ft. 6 in.
With the diesel engine two 6V batteries of 185 amp. hr. total are specified, whereas a Single 72 amp. hr. I2V battery is fitted when the petrol engine is chosen. Ten-leaf semi-elliptic springs, each of 2,090 lb. rating, are used at the front axle and 11-leaf 2,800 1b-capacity springs at the rear, there being double-acting telescopic hydraulic dampers at both axles. Maximum gross weight rating is 9,500 lb.—or approximately 4 tons 4.75 cwt.
This new Bedford is available in chassis/cowl form (at £1,460 with petrol engine and £1,590 with diesel) or with the familiar normal-control cab, in which form the standard U.K. prices are £1,541 (petrol) and £1,671 (diesel). All these prices refer to chassis with 9.00-16 (8-ply) on/off-road tyres.
T.D.G. Buys Stirland
THE issued share capital of 1. Stirland (Nottingham) Ltd., a company incorporated in 1955 and engaged in road haulage and warehousing with a fleet of some 35 vehicles, has been acquired by the Transport Development Group Ltd.
Purchase price was the allotment of 95,384 Ordinary shares of 5s. each of Transport Development Group Ltd., credited as fully paid, and £124,000 in cash. The company will continue under Mr. I. Stirland, the present managing director.