Now Crane Fruehauf Enters Frameless-van Market wit le Vanguard
31st July 1964
Page 22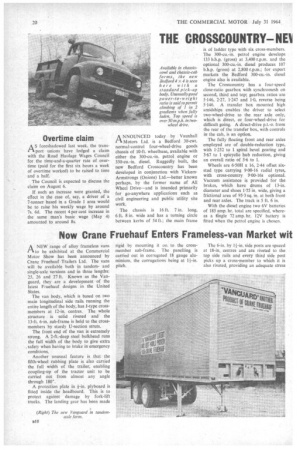 Page 23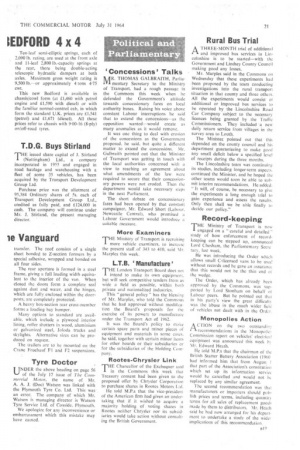 Page 22, 31st July 1964 —
Now Crane Fruehauf Enters Frameless-van Market wit le Vanguard
Close
ANEW range of alloy frameless vans to be exhibited at the Commercial Motor Show has been announced by Crane Fruehauf Trailers Ltd. The vans will be available both in tandemand single-axle versions and in three lengths: 25, 26 and 27 ft. Known as the Vanguard, they are a development of the latest Fruehauf designs in the United States.
The van body, which is based on two main longitudinal side rails running the entire length of the body, has J-type crossmembers at I2-in. centres. The whole structure is solid riveted and the 13-ft. 6-in, sub-frame is held to the crossmembers by sturdy U-section struts.
The front end of the van is extremely strong. A 2-ft.-deep steel bulkhead runs the full width of the body to give extra , safety when having to brake in emergency conditions.
Another unusual feature is that the fifth-wheel rubbing plate is also carried the full width of the trailer, enabling coupling-up of the tractor unit to be carried out from almost any angle through 180°.
A protection plate in *-in. plyboard is fitted inside the headboard, This is to protect against damage by fork-lift trucks. The landing gear has been made
rigid by mounting it on to the crossmember sub-frame. The panelling is carried out in corrugated 18 gauge aluminium, the corrugations being at 11-in. pitch. The 6-in. by 11-in. side posts are spaced at 18-in., centres and are riveted to the top side rails and every third side post picks up a cross-member to which it is also riveted, providing an adequate stress
transfer. The roof consists of a single sheet bonded to 2-section formers by a special adhesive, wrapped and bonded on all four sides.
The rear aperture is formed in a steel frame, giving a full loading width equivalent to the interior of the van. When closed the doors form a complete seal against dust and water, and the hinges, which are fully enclosed within the doorposts, are completely protected.
A heavy box-section rear cross-member forms a loading bay bumper.
Many options to standard are available, which include a plywood interior lining, roller shutters in wood, aluminium or galvanized steel, Joloda tracks and skylights. Alternative sizes can be produced on request.
The trailers are to be mounted on the Crane Fruehauf Fl and F2 suspensions.
Tyre Doctor
UNDER the above heading on page 56 of the July 17 issue of The Commercial Motor, the name of Mr. A. A. J. (Doc) Watson was linked with the Plymouth Tyre Co. Ltd. This was an error. The company of which Mr. Watson is managing director is Watson Tyre Service Ltd. of Coxside. Plymouth.
We apologize for any inconvenience or embarrassment which this mistake may have caused.