York Plans for Trailer Conversions Under New Regulations
31st July 1964
Page 21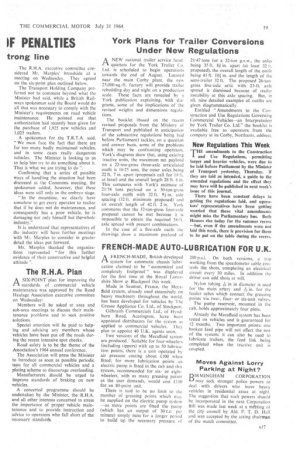 Page 21, 31st July 1964 —
York Plans for Trailer Conversions Under New Regulations
Close
A NEW national trailer service head
quarters for the York Trailer Co. Ltd: is scheduled to begin operations towards the end of August. Located near the main Corby plant, the new 25,000-sq.-ft. factory will provide trailer rebuilding day .and night on a production scale. These facts are revealed by a York publication explaining, with diagrams, some of the implications of the revised weights and dimensions regulations.
The booklet (based on the recent revised proposals from the Ministry of Transport and published in anticipation of the substantive regulations being laid before Parliament) tackles, on a question and answer basis, some of the problems which may be confronting operators. York's diagrams show that. using existing tractive units, the maximum net payload on a 22-ton-gross three-axle articulated outfit is 16.25 tons, the outer axles being 22 ft. 7 in. apart (proposals call for 18 ft. at least) and the overall length 28 ft. 8 in. This compares with York's estimate of 21-74 tons payload on a 30-ton-gross four-axle outfit with 32 ft. 9* in. axle spacing (32 ft. minimum proposed) and an overall length of 42 ft. 2 in. York comments that the 32-ton-gross four-axle proposal cannot be met because it is impossible to obtain the required 38-ft. axle spread with present combinations.
In the case of a five-axle outfit the drawings show a maximum payload of 21.47 tons for a 32-ton g.v.w., the axles being 35 ft. 8* in. apart (at least 32 ft. proposed), the overall length of the outfit being 41 ft. 10* in. and the length of the semi-trailer 32 ft. The proposed 26-tongross five-axle artic with 23-ft. axle spread is dismissed because of trailer instability at this axle spacing. But, in all, nine detailed examples of outfits are given diagrammatically.
Entitled "Amendments to the Construction and Use Regulations Governing Commercial Vehicles—an Interpretation by York Trailer Co, Ltd." the booklet is available free to operators from the company at its Corby, Northants, address.
New Regulations This Week
THE amendments to the Construction
and Use Regulations, permitting larger and heavier vehicles, were due to be laid before Parliament by the Minister of Transport yesterday, Thursday. If they are laid as intended, a guide to the amended regulations and the effect they may have will be published in next week's issue of this journal.
There have been constant delays in getting the regulations laid, and operators' representatives have been getting worried that these vital amendments might miss the Parliamentary bus. Both Houses rise today for the summer recess —but, even if the amendments were not laid this week, there is provision for them to be put on the table during the recess