Minister Announces £1,000 m. Road Programme
31st July 1964
Page 20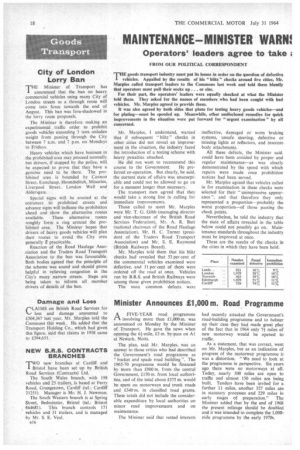 Page 20, 31st July 1964 —
Minister Announces £1,000 m. Road Programme
Close
L-1.
A FIVE-YEAR road programme involving more than £l,000 m. was announced on Monday by the Minister of Transport. He gave the news when opening the 6+-mile, £3 m. by-pass on A at Newark, Notts. The plan, said Mr. Marples, was an answer to those critics who had described the Government's road programme as "bucket and spade road building ". The 1965-70 programme would be financed by more than £900 m. from the central Government, £150 m. from local authorities, and of the total about £575 m. would be spent on motorways and trunk roads and £340 m. in classified road grants. These totals did not include the considerable expenditure by local authorities on minor road improvements and on maintenance.
The Minister said that vested interests
had recently attacked the Government's road-building programme and to bolster up their case they had made great play of the fact that in 1964 only 7+ miles of new motorway would be opened to traffic. As a statement, that was correct, went on Mr. Marples, but as an indication of progress of the motorway programme it was a distortion. "We need to look at the programme in perspective. Six years ago there were no motorways at all. Today, nearly 300 miles are open to traffic and almost 150 mites are being built. Tenders have been invited for a further 11 miles, another 327 miles are in statutory processes and 229 miles in early stages of preparation." The Minister added that by the end of 1968 the present mileage should be doubled and it was intended to complete the 1,000mile programme by the early 1970s.