MAINTENANCE-MINISTER WARM IF PENALTIES
31st July 1964
Page 20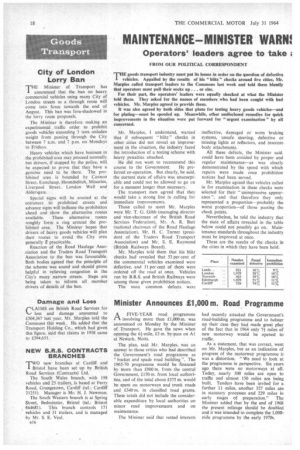 Page 21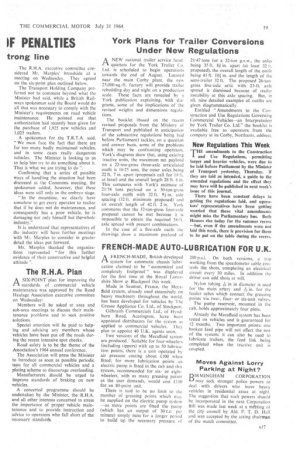 Page 20, 31st July 1964 —
MAINTENANCE-MINISTER WARM IF PENALTIES
Close
Operators' leaders agree to take I trong line
FROM OUR POLITICAL CORRESPONDENT 'THE goods transport industry must put its house in order on the question of defective vehicles. Appalled by the results of his " blitz " checks around five cities, Mr. Marples called transport leaders to the Commons last week and told them bluntly that operators must pull their socks up. .. or else.
For their part, the operators' leaders were equally shocked at what the Minister told them. They asked for the names of members who had been caught with bad vehicles. Mr. Marples agreed to provide them.
It was also agreed by both sides that plans for testing heavy goods vehicles—and for plating—must be speeded up. Meanwhile, other undisclosed remedies for quick improvements in the situation were put forward for " urgent examination" by all concerned.
Mr. Marples, I understand, warned that if subsequent " blitz " checks in other cities did not reveal an improvement in the situation, the industry faced the introduction of a testing scheme with heavy penalties attached.
He did not want to recommend this
course to the Government. He preferred co-operation. But clearly, he said, the current state of-affairs was unacceptable and could not be allowed to go on for a moment longer than necessary. The transport men agreed that they would take a strong line in calling for immediate improvements. Those called to meet Mr. Marples were Mr. T. G. Gibb (managing director and vice-chairman of the British Road Services Federation), Mr. A. R. Butt (national chairman of the Road Haulage Association), Mr. H. C. Turner (president of the Traders Road Transport Association) and Mr. S. E. Raymond (British Railways Board). Mr. Marples told them that his blitz checks had revealed that 53 per cent of the commercial vehicles examined were defective, and 11 per cent of them were ordered off the read at once. Vehicles run.by B.R.S. and British Railways were among those given prohibition notices.
The most common defects were
ineffective, damaged or worn braking systems, unsafe steering, defective or missing lights or reflectors, and insecure body attachments, All these defects, the Minister said, could have been avoided by proper and regular maintenance—as was clearly demonstrated by the speed with which repairs were made once prohibition notices had been served. Mr. Marples agreed that vehicles called in for examination in these checks were selected for their "unimpressive appearance ", and that therefore they only represented a proportion—probably the worst proportion—of those passing the check points. Nevertheless, he told the industry that the state of affairs revealed in the table below could not possibly go on. Maintenance standards throughout the industry must be improved at once.
These are the results of the checks in the cities in which they have been held: The R.H.A. executive committee considered Mr. Marples' broadside at a meeting on Wednesday. They agreed on the six-point plan outlined below.
The Transport Holding Company preferred not to comment beyond what the Minister had said, while a British Railways spokesman said the Board would do all that was necessary to comply with the Minister's requirements on road vehicle maintenance. He pointed out that authorization had recently been given for the purchase of 1,925 new vehicles and 1,025 trailers.
A spokesman for the T.R.T.A. said, "We must face the fact that there are far too many badly maintained vehicles, and in some cases really dangerous vehicles. The Minister is looking to us to help him try to do something about it. That is what we are trying to do ".
Confirming that a series of possible ways of handling the situation had been discussed at the Commons meeting, the spokesman added, however, that these ideas were still only in the embryo stage.
"In the meantime, we clearly have somehow to get every operator to realize that if he does not do maintenance, and consequently has a poor vehicle, he is damaging not only himself but the.whole industry."
It is understood that representatives of the industry will have further meetings with Mr. Marples to consider in greater detail the ideas put forward.
Mr. Marples thanked the organizations represented "for this further evidence of their constructive and helpful attitude ".
The R.H.A. Plan
riA SIX-POINT plan for improving the standards of commercial vehicle maintenance was approved by the Road Haulage Association executive committee on Wednesday:
Members will be asked at area and sub-area meetings to discuss their maintenance problems and to seek positive solutions., Special attention will be paid to helping and advising any members whose vehicles have been put off the roads during the recent intensiVe spot checks.
Road safety is to be the theme of the Association's 1964 annual conference.
The Association will press the Minister to introduce as soon as possible periodic tests for all commercial vehicles and a plating scheme to discourage overloading.
Manufacturers should be urged to improve standards of braking on new vehicles.
A concerted programme should be undertaken by the Minister, the R.H.A. and all other interests concerned to stress the importance of proper vehicle maintenance and to provide instruction and advice to operators who fall short of the necessary standards.