ARTERIAL ROAD OVE A LONDON RAILWAY
31st January 1936
Page 42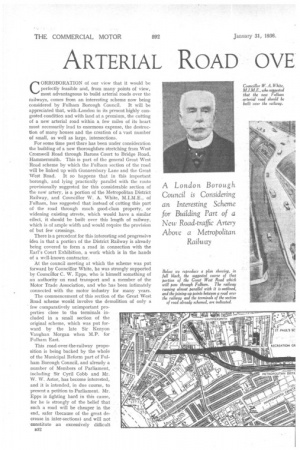 Page 43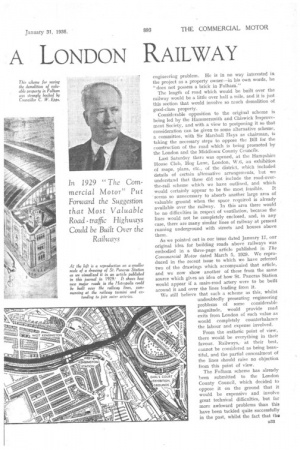 Page 44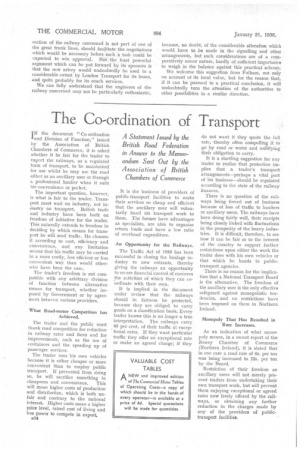 Page 42, 31st January 1936 —
ARTERIAL ROAD OVE A LONDON RAILWAY
Close
CORROBORATION of our view that it would be perfectly feasible and, from many points of view, most advantageous to build arterial roads over the railways, comes from an interesting scheme now being considered by Fulham Borough Council. It will be appreciated that, with.London in its present highly congested condition and with land at a premium, the cutting of a new arterial road within a few miles of its heart must necessarily lead to enormous expense, the destruction of many houses and the creation of a vast number of small, as well as large, intersections.
For some time past there has been under consideration the building of a new thoroughfare stretching from West Cromwell Road through Barons Court to Bridge Road, Hammersmith. This is part of the general Great West Road scheme by which the Fulham section of the road will be linked up with Gunnersbury Lane and the Great West Road. It so happens that in this important borough, and lying practically parallel with the route provisionally suggested for this considerable section of the new artery, is a portion of the Metropolitan District Railway, and Councillor W. A. White, M.I.M.E., of Fulham, has suggested that instead of cutting this part of the road through much good-class property, or widening existing streets, which would have a similar effect, it should be built over this length of railway, which is of ample width and would require the provision of but few crossings.
There is a precedent for this interesting and progressive idea in that a portio:i of the District Railway is already being covered to form a road in connection with the Earl's Court Exhibition, a work which is in the hands of a well-known contractor.
At the council meeting at which the scheme was put forward by Councillor White, he was strongly supported by Councillor C. W. Epps, who is himself something of an authority on road transport and a member of the Motor Trade Association, and who has been intimately connected with the motor industry for many years.
The commencement of this section of the Great West Road scheme would involve the demolition of only a . few comparatively unimportant properties close to the terminals included in a small section of the original scheme, which was put forward by the late Sir Kenyon Vaughan Morgan when M.P. for Fulham East.
This road-over-the-railway proposition is being backed by the whole of the Municipal Reform part of Fulham Borough Council, and already a number of Members of Parliament, including Sir Cyril Cobb and Mr. W. W. Astor, has become interested, and it is intended, in due course, to present a petition to Parliament. Mr. Epps is fighting hard in this cause, for he is strongly of the belief that such a road will be cheaper in the end, safer (because of the great decrease in inter-sections) and will not constitute an excessively difficult
B32
engineering problem. He is in no way interested in the project as a property owner—in his own words, he "does not possess a brick in Fulham.,"
The length of road which would be built over the railway would be a little over half a mile, and it is just this section that would involve so much demolition of good-class property.
Considerable opposition to the original scheme is being led by the Hammersmith and Chiswick Improvement Society, and with a view to postponing it so that consideration can be given to some alternative scheme, a committee, with Sir 'Marshall Hays as chairman, is taking the necessary steps to oppose the Bill for the construction of the road which is being promoted by the London and the Middlesex County Councils.
Last Saturday there was opened, at the Hampshire House Club, Hog Lane, London, W.6, an exhibition of maps, plans, etc., of the district, which included details of certain alternative arrangements, but we understand that these did not include the road-overthe-rail scheme which we have outlined, and which would certainly appear to be the most feasible. It ' seems so unnecessary to absorb another large area of valuable ground when the space required is already available over the railway. In this area there would be no difficulties in respect of ventilation, because the lines would not be completely enclosed, and, in any case, there are many similar lines of railway at present running underground with streets and houses above them.
As we pointed out in our issue dated January 17, our original idea for building roads above railways was embodied in a three-page article published in The Commercial Motor dated March 5, 1929. We reproduced in the recent issue to which we have referred two of the drawings which accompanied that article, and we now show another of these from the same source which gives an idea of how St. Pancras Station would appear if a main-road artery were to be built around it and over the lines leading from it.
We still believe that such a scheme as this, whilst undoubtedly presenting engineering problems of some considerable magnitude, would provide road exits from London of such value as would completely counterbalance the labour and expense involved.
From the wsthetic point of view, there would be everything in their favour. Railways, • at their best, cannot be considered as being beautiful, and the partial concealment of the lines should raise no objection from this point of view.
The Fulham scheme has already been submitted to the London County Council, which decided to oppose it on the ground that it would be expensive and involve great technical difficulties, but far more awkward problems than this have been tackled quite successfully in the past, whilst the fact that the section of the railway concerned is not part of one of the great trunk lines, should facilitate the negotiations which would be necessary before such a task could be expected to win approval. Not the least powerful argument which can be put forward by its sponsors is that the new artery would undoubtedly be used to a considerable extent by London Transport for its buses, and quite probably for its coach services.
We can fully understand that the engineers of the railway concerned may not be particularly enthusiastic, because, no doubt, of the considerable alteration which would, have to be made in the signalling and other arrangements, but such considerations are of a comparatively minor nature, hardly of sufficient importance to weigh in the balance against this practical scheme.
We welcome this suggestion from Fulham, not only on account of its local value, but for the reason that, if it can be pursued to a practical conclusion, it will undoubtedly turn the attention of the authorities to other possibilities in a similar direction.