ONE HEARS
30th September 1924
Page 3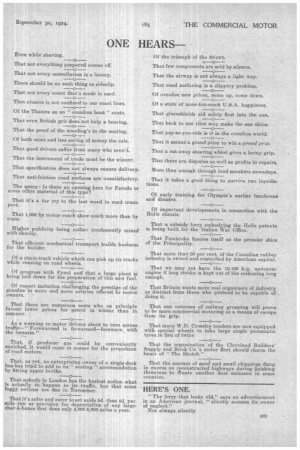 Page 3, 30th September 1924 —
ONE HEARS
Close
Even while shaving.
That not everything prepared comes off.
That not every consultation is a luxury.
There should be no such thing as sideslip.
That not every count that's made is used.
That erosion is not confined to our coast lines.
Of the Thames as an "omnibus boats' route.
That even British grit does not help a bearing.
That the proof of the wooding's in the seating.
Of both more and less saving of money the rule.
That good drivers suffer from many who aren't.
That the instrument of trade must be the winner.
That specification does not always ensure delivery.
That anti-friction road surfaces are unsatisfactory.
The query : Is there an opening here for Ferodo or some other material of this type ?
That it's a far cry to the last word in road transport.
That 1,000 by motor coach show much more than by train.
Higher publicity being rather incoherently mixed with charity.
That efficient mechanical transport builds business for the builder.
Of a chain-track vehicle which can pick up its tracks while running on road wheels.
Of progress with Pynol and that a large plant is being laid down for the preparation of this new fuel.
Of expert imitation challenging the prestige of the genuine in more and more articles offered to motor owners.
That there are numerous users who on principle favour lower prices for petrol in winter than in summer.
As a warning to motor drivers about to turn across traffic—" Forewarned is forearmed—forewarn with the forearm."
That, if producer gas could be conveniently enriched, it would come in sooner for the propulsion of road motors.
That, as yet, no enterprising owner of a single-deck bus has tried to add to its " seating " accommodation by fitting upper berths.
That nobody in London has the haziest notion what is actually to happen to its .traffic, but that some foggy notions are due in November.
That it's safer and surer to set aside 9d. than 4d. per mile run as provision for depreciation of any large char4-banes that does only 4,000-5,000 miles a year. Of the triumph of the 30-cwt.
That few components are sold by silence.
That the airway is not always a light way.
That road surfacing is a slippery problem.
Of overdue newprices, some up, some down.
Of a state of none-too-much U.S.A. happiness.
That glareshields aid safety first into the sun.
That back to sun time may make the sun shine.
That pay-as-you-ride is it in the omnibus world.
That it means a grand price to win a grand pride.
That a cut-away steering wheel gives a horny grip.
That there are disputes as well as profits in repairs.
More than enough through loud speakers nowadays.
That it takes a good thing to survive two liquidations.
Of early training for Olympia's earlier luncheons and dinners.
Of important developments in connection with the Holle chassis.
That a subsidy lorry embodying the Holle patents is being built for the Italian War Office.
That Pembroke fancies itself as the premier shire of the Principality.
That more than 50 per cent, of the Canadian rubber industry is owned and controlled by American capital.
That we may yet have the 10-100 h.p. motorcar engine if long stroke is kept out of the reckoning long enough.
That Britain wants more real organizers of industry as distinct from those who pretend to be capable of doing it.
That one outcome of railway grouping will prove to be more commercial motoring as a means of escape from its grip.
That many W.D. Crossley tenders are now equipped with special wheels to take large single pneumatic tyres in lieu of twins That the organization of the Cleveland Builders' Supply and Brick Co.'s motor fleet should charm the heart of "The Skotch."
That the amount of sand and small ehippings flung in excess on reconstructed highways during finishing threatens to &Tate another dust nuisance in some counties.