THE HAULIERS' INQUIRE WITHIN.
30th September 1924
Page 26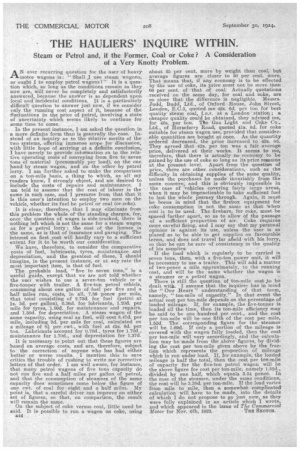 Page 26, 30th September 1924 —
THE HAULIERS' INQUIRE WITHIN.
Close
Steam or Petrol and, if the Former, Coal or Coke ? A Consideration of a Very Knotty Problem.
AN ever recurring question for the user of heavy motor wagons is: "Shall I use steam wagons,
or ought I to employ petrol wagons?" It is a question which, so long as the conditions remain as they now are, will never be completely and satisfactorily answered, because the answer is so dependent upon local and incidental conditions. It is a particularly difficult question to answer just now, if we consider only the running cost aspect of it, because of the fluctuations in the price of petrol, involving a state of uncertainty which seems likely to continue for some time to come.
In the present instance, I am asked the question in a more definite form than is generally the case. Instead of an inquiry as to the relative merits of the two systems, offering immense scope for discussion, with little hope of arriving at a definite conclusion, I have merely to provide information as to the relative operating costs of conveying from five to seven tons of material (presumably per load), on the one hand by steam wagon, and on the other by petrol lorry. I am further asked to make the comparison on a ton-mile basis, a thing to which, as an my readers know, I strongly object, and am desired to include the costs of repairs and maintenance. I am told to assume that the cost of labour is the same in each case, and I presume from that that it is this user's intention to employ two men on the vehicle, whether its fuel be petrol or coal (or coke).
It is clear, therefore, that I may eliminate from this problem the whole of the standing charges, for, once the question of wages is side-tracked, there is nothing left which is not the same for a steam wagon as for a petrol lorry : the cost of the licence is the same, as is that of insurance and garaging. The interest on first cost will hardly vary toa sufficient extent for it to be worth our consideration.
We have, therefore, to consider the comparative costs of fuel, lubricants, tyres, maintenance and depreciation, and the greatest of these, I should imagine, in the present instance, or at. any rate the most important item, is that of fuel.
The probable load, "five to seven tons," is a useful guide, except that we are not told whether the user wishes to use a seven-ton vehicle or a five-tonner with trailer. A five-ton petrol vehicle, consuming about one gallon of fuel per five and a half miles run, costs, in all, 7.59 pence per mile, that total consisting of 2.73d. for fuel (petrol at is. 3d. per gallon), 0.36d for lubricants, 1.20d. per mile for tyres, 1.80d. for maintenance and repairs, and 1.50d. for depreciation. A steam wagon of the same capacity, using coal as fuel, will cost 8.47d. per mile. including 3d. per mile for coal, calculated on a mileage of 81 per cwt., with fuel at 42s. 6d. per ton. Lubricants account for 0.70d., tyres for 1.70d., maintenance for 1.70d., and depreciation for 1.37d.
It is necessary to point out that these figures are based on average costs, and are, therefore, subject to the correction of anyone who has had either better or worse results. I mention this to save critics the trouble of rushing to write me Corrective letters of that order. I am well aware, for instance, that many petrol wagons of five tons capacity do not run five and a half miles per gallon of petrol, and that the consumption of steamers of the same capacity does sometimes come below the figure of one cwt. of coal for eight and a half miles. My point is, that a careful driver can improve on either set of figures, so that, on comparison, the result will remain the same.
On the subject of coke versus coal, little need be said. It is possible to run a wagon on coke, using E44 about 25 per cent. more by weight than coal, but average figaires are closer to 50. per cent. more. That means that, if any economy is to be effected by the use of coke, its price must not be more than 66 per cent, of that of coal. Actually quotations received on the same day, for coal and coke, are so close that the difference is negligible. Messrs. Judd, Budd, Ltd., of Oxford House, John Street, London, E.C.3, quoted me 42s. 6d. per ton for best quality steam coal, f.o.r. at a London station ; a cheaper quality could be obtained, they advised me, for 40s. per ton. The Gas Light and Coke Co., Ltd., of Horseferry Bead, quoted 418. 8d. for coke suitable for steam wagon use, provided that considerable quantities are bought at once. As the quantity ordered decreased, the price increased to 43s. 8d. They agreed that 42s. per ton was a fair average price delivered at their works. It seems to me, therefore, that there is actually no economy to be gained by the use of coke so long as its price remains at the present level. Apart from the question of price, there are other considerations, such as the difficulty in obtaining supplies of the same quality, unless the purchases be made invariably from the same concern; and this is obviously impossible in the case of vehicles covering fairly large areas,
when it may be impracticable to take sufficient fuel to last the whole journey through. Again, it must be borne in mind that the firebox equipment for coke consumption is not the same as that when coal is to be used. The firebars, for coke, must-be spaced farther apart, so as to allow of the passage of a sufficient proportion of air. Coke requires more careful firing, and I may say that my personal opinion is against its use, unless the user is so placed as to be able to get supplies on favourable terms, and does not travel far afield with his lorry, so that he can be sure of consistency in the quality of his supplies.
If the load which is regularly to be carried is seven tons, then, with a five-ton power unit, it will be necessary to use a trailer. This will add a matter of two-pence a mile approximately, to the running cost, and will be the same whether the wagon is a steamer or a petrol wagon.
There is still the question of ton-mile cost to be dealt with. I assume that the inquirer has in mind the "One Hears" understanding of that term, namely, "ton-mile of capacity." In that event the actual cost per ton-mile depends on the percentage of loaded mileage. If, for example, the five-toriner is loaded all the time, then its ton-mile efficiency may be said to be one hundred per cent., and the cost per ton-mile will be one fifth of the cost per mile, 1.52d. The corresponding figure for the steamer will be 1.69d.. If only a portion of the mileage is covered with the wagon fully loaded, then the cost per ton-mile will vary accordingly, and the calculation may be made from the above figures, by dividing the cost per ton-mile given above by the fraction which represents the proportion of mileage which is run under load. If, for example, the loaded mileage is half the total, then the cost per ton-mile of capacity for the five-ton petrol wagon will be the above figure for cost per ton-mile, namely 1.52d., divided by one half, which equals 3.04 pence. In the case of the steamer, under the same conditions, the cost will be 3.38d. per ton-mile, if the load varies from mile to mile, then a somewhat complicated' calculation will have to be made, into the details of which I do not propose to go just now, as they were fully explained in an article which I wrote, and which appeared in the issue of The Commercial Motor for Nov. 6th, 1923. THE SKOTCH.