PROTECTING AGRICULTURAL DISTRICTS.
30th September 1924
Page 12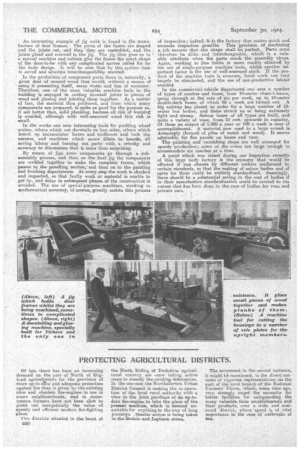 Page 12, 30th September 1924 —
PROTECTING AGRICULTURAL DISTRICTS.
Close
Of late there has been an increasing demand on the part of North of Englend agriculturists for the provision of more up-to-Ate and adequate protection againat fire than is given by the existing slow and obsolete fire-engines in use in many neighbourhoods, and in consequence farmers have not been 'slow to point out energetically the value of tipeedy and efficient modern fire-fighting plant.
Two districts situated in the heart of the North. Riding of Yorkshire agricultural country are -new taking active steps to remedy the existing deficiencies. In the one case the Northarlerton Urban District Council ia seeking the co-operation of the local rural authority with a view to the feint purchase of an up-todate fire-engine to take the place of the present machine, which is deemed unsuitable for anything in the way of long journeys. action is being taken in the. Bedale and Leyburn areas,
The movement in the second instance, it might lA mentioned, is the direct outCOrna of vigorous representations on the part of the local branch of the National Farmers' Union, which, soine time ago, very strongly urged the necessity for better facilities for safeguarding the. many valuable farm establishments and their products, over is wide and scattered district, where speed is of vital importance in the case of outbreaks of hes.