New designs at Dairy Show
30th October 1970
Page 28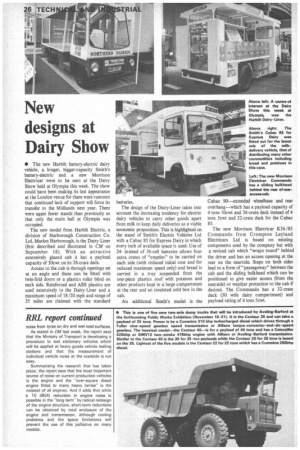 Page 28, 30th October 1970 —
New designs at Dairy Show
Close
• The new Harbilt battery-electric dairy vehicle, a longer, bigger-capacity Smith's battery-electric and a new Morrison Electricar were to be seen at the Dairy Show held at Olympia this week. The show could have been making its last appearance at the London venue for there were rumours that continued lack of support will force its transfer to the Midlands next year. There were again fewer stands than previously so that only the main hall at Olympia was occupied.
The new mode from Harbilt Electric, a division of Harborough Construction Co. Ltd, Market Harborough, is the Dairy-Liner (first described and illustrated in CM on September 18). With an attractive extensively glazed cab it has a payload capacity of 30cwt on its 28-crate deck.
Access to the cab is through openings set at an angle and these can be fitted with twin-fold doors or a plastics roller blind on each side. Reinforced and ABS plastics are used extensively in the Dairy-Liner and a maximum speed of 18/20 mph and range of 35 miles are claimed with the standard batteries.
The design of the Dairy-Liner takes into account the increasing tendency for electric dairy vehicles to carry other goods apart from milk to keep daily deliveries as a viable economic proposition. This is highlighted on the stand of Smith's Electric Vehicles Ltd with a Cabac 85 for Express Dairy in which every inch of available space is used. Use of 24instead of 36-cell batteries allows four extra crates of "empties" to be carried on each side (with reduced initial cost and for reduced maximum speed only) and bread is carried in a tray suspended from the one-piece plastics roof with potatoes and other products kept in a large compartment at the rear and an insulated cold box in the cab.
An additional Smith's model is the
Cabac 90—extended wheelbase and rear overhang—which has a payload capacity of 4 tons IOcwt and 36-crate deck instead of 4 tons 5cwt and 32-crate deck for the Cabac 85.
The new Morrison Electricar K36 /85 Commando from Crompton Leyland Electricars Ltd is based on existing components used by the company but with a revised cab which "wraps round" behind the driver and has an access opening at the rear on the nearside. Steps on both sides lead to a form of "passageway" between the cab and the sliding bulkhead which can be positioned to give easier access (from the nearside) or weather protection to the cab if desired. The Commando has a 32-crate deck (30 with dairy compartment) and payload rating of 4 tons 5cwt.