PLAINTIFFS WIN IN -TRANSFER" ACTION
30th October 1936
Page 52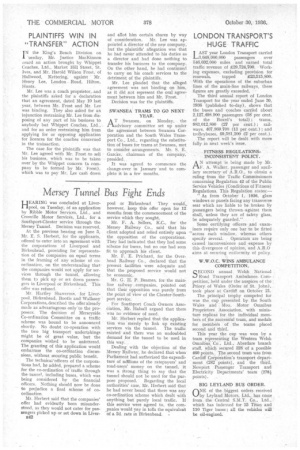 Page 52, 30th October 1936 —
PLAINTIFFS WIN IN -TRANSFER" ACTION
Close
IN the King's Bench Division on uesday, Mr. Justice MacKinnon neard an action brought by Whippet Coaches, Ltd., Market Hill Street, St. Ives, and Mr. Harold Wilson Frost, of Hallwood, Kettering, againtt Mr. Henry Lee, London . Road, Hilton, Hunts
Mr, Lee was a coach proprietor, .and the plaintiffs asked for a declaration that an agreement, dated May 10 last year, beta een Mr. Frost and Mr. Lee was binding. They also asked for an injunction restraining Mr. Lee from disposing of any part of his business to anybody but Whippet Coaches, Ltd., and for an order restraining him from applying for or opposing application for licences for the coaches concerned in the transaction.
The case for the plaintiffs was that Mr. Lee agreed with Mr. Frost to sell his business, which was to be taken over by the Whippet concern (a company to be formed by Mr. Frost). which was to pay Mr. Lee cash down and allot him certain shares by way of consideration. Mr. Lee was appointed a director of the new company, but the plaintiffs' allegation was that he had never attended to his duties as a director and had done nothing to transfer his business to the company. On the other hand, he had continued to carry on his coach services to the detriment of the plaintiffs.
Mr. Lee pleaded that the alleged agreement was not binding on him, as it did not represent the oral agreement between him and Mr. Frost.
Decision was for the plaintiffs.
SWANSEA TRAMS TO GO NEXT YEAR.
AT Swansea, on Monday, the advisory committee set up under the agreement between Swansea Corporation and the South Wales Transport Co., Ltd., regarding the substitution of buses for trams at Swansea, met to consider arrangements. Mr. S. E. Garcke, chairman of the company, presided.
It was agreed to commence the change-over in January and to complete it in a few months.