LONDON TRANSPORT'S HUGE TRAFFIC
30th October 1936
Page 52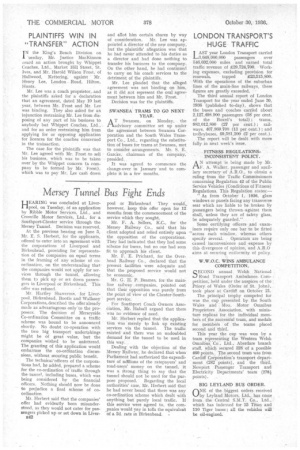 Page 52, 30th October 1936 —
LONDON TRANSPORT'S HUGE TRAFFIC
Close
LAST year London Transport carried 3,648,000,000 passengers over 546,692,000 miles and earned total traffic revenue of £29,724,700. Working expenses, excluding provision for
renewals, topped £23,515,800. With the operations of the suburban lines of the main-line railways, these figures are greatly exceeded.
The third annual report of London Transport for the year ended June 30, 1936 (published to-day), shows that the buses and coaches carried about 2,127,498.900 passengers (58 per cent.
of the Board's total) ; trams, 983,012,800 (27 per cent.) ; railways, 467,869.700 (13 per cent.) ; and trolleybuses, 69,581,200 (2 per cent.).
The report will be dealt with more fully in next week's issue.
FITNESS REGULATIONS: INCONSISTENT POLICY.
AN attempt is being made by Mr. 14`. A. Walker, passenger and ancillary secretary of A.R.O., to obtain a ruling from the Traffic Commissioners concerning Regulation 42 of the Public Service Vehicles (Conditions of Fitness) Regulations. This Regulation states:—
" As from October 1, 1936, glass windows or panels facing any transverse seat which are liable to be broken by passengers being thrown against them shall, unless they are of safety glass, be adequately guarded."
Some certifying officers and examiners require only one bar to be fitted across each window, whereas others specify several. Operators are being caused inconvenience and expense by this divergence of opinion, and A.R.0 aims at securing uniformity of policy,.
W.W.O.C. WINS AMBULANCE COMPETITION.
QECOND annual Welsh National
Road Transport Ambulance Competition, held under the auspices of the Priory of Wales (Order of St. John), took place at Cardiff on October 21.
The principal trophy competed for was the cup presented by the South Wales and Mon. Motor Omnibus Proprietors Association, with miniature replicas for the individual members of the .successful team, and medals for menabers of the teams placed second and third.
This year the cup was won by a team representing the Western Welsh Omnilius:Co., Ltd., Aberdare branch staff, which secured 328 of a possible 460 points.. The second team was from Cardiff Corporation's transport department (282 .points), and the third, Newport Passenger Transport and Electricity -Departments' team (2781 points).
BIG LEYLAND BUS ORDER.
QNE of the biggest orders received by Leyland Motors, Ltd., has come from the Central S.M.T. Co., Ltd., which has indented for 15 Titan and 110 Tiger buses ; all the vehicles will be oil-engined.