STOKE TO LAUNCH BOARD BILL
30th October 1936
Page 51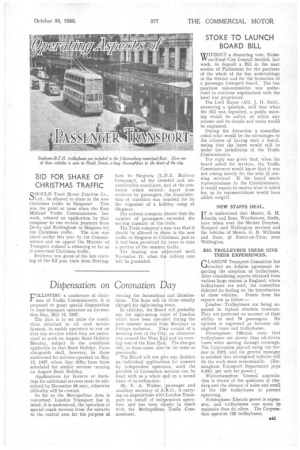 Page 51, 30th October 1936 —
STOKE TO LAUNCH BOARD BILL
Close
WITHOUT a dissenting vote, Stoker/ on-Trent City Council decided, last week, to deposit a Bill in the next session of Parliament for the purchase of the whole of the bus undertakings in the district and for the formation .of a passenger transport board. The bus purchase sub-committee was authorized to continue negotiations with the local bus proprietors, The Lord Mayor (Ald, J. H. DaIe), answering a question, said that when the Bill was deposited, a public meeting would be called, at which any scheme and its details and terms would be explained.
During the discussion a councillor asked what would be the advantages to the citizens of having such a board, seeing that the buses would still be under the jurisdiction of the Traffic .Commissioners.
The reply was given that, when the board asked for services, the Traffic Commissioners would know that it was not asking merely for the sake 'Of running services! If the board made representations to the Commissioners, it would expect to receive what it asked for, as its representations would have added weight]
NEW STAFFS DEAL.
I T is understood that Messrs. G. H. Austin and Sons, Woodsea.ves, Staffs, have taken over the Market Drayton, Newport and Wellington services and the vehicles of Messrs. G. B. Williams and Sons, of Eaton-on-Turn, near Wellington.
BIG TROLLEYBUS USERS GIVE THEIR EXPERIENCES. .
GLASGOW Transport Committee has reached no definite agreement regarding the adoption of trolleybuses. After considering,reports obtained from various large centres in England, where trolleybuses are used, the comniittee deferred its finding on the introduction
of these vehicles. Points from the reports are as fonow:_ LOnclon: Trolleybuses are being acquired to replace obsolete tramcars. They are preferred on account of their ability to seat 70 passengers. No opinion is expressed as between oilengined buses and trolleybuses.
Birmingham: Officials state that trolleybuses are slower than oil-driven buses when moving through crossings. The Corporation started using the former in 1922, and the general manager is satisfied that oil-engined vehicles will do the work more economically. (Birmingham Transport Department pays 0.67d. per unit for power.)
Wolverhampton: General appreciation is shown of the quietness of running and the absence of noise and smell of the 120 trolleybuses at present operating.
Nottingham: Electric power is expensive, and trolleybuses cost MOTO to maintain than do oilers. The Corporation operates 125 trolleybuses.