Pitfalls of Timber Haulage Exposed
30th October 1936
Page 45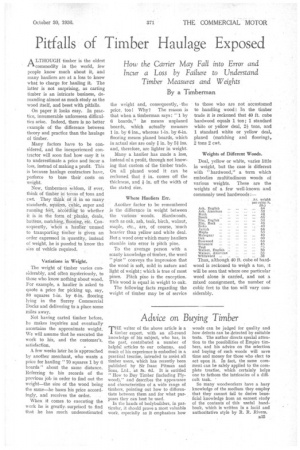 Page 45, 30th October 1936 —
Pitfalls of Timber Haulage Exposed
Close
By a Timberrnan
A LTHOUGH timber is the oldest "commodity in the world, few people know much about it, and many hauliers are at a loss to know what to charge for hauling it. The latter is not surprising, as carting timber is an intricate business, demanding almost as much study as the wood itself, and beset with pitfalls.
On paper it looks easy. In practice, innumerable unforeseen difficulties arise. Indeed, there is no better example of the difference between theory and practice than the haulage of timber.
Many factors have to be considered, and the inexperienced contractor will soon find how easy it is to underestimate a price and incur a loss, instead of making a profit. This is because haulage contractors have, perforce to base their costs on weight.
Now, timbermen seldom, if ever, think of timber in terms of tons and cut They think of it in so many standards, sqiiires, Cubic, super and running feet, accof ding to whether it is in the form , of planks, deals, battens, matching, flooring, etC consequently, wheii a haulier ' unused to transporting timber is given an order expressed in "quantity, instead of weight, he is puzzled to know the size of vehicle required.
Variations in Weight.
The weight of timber varies considerably, and often mysteriously, to those who know nothing about wood.
For example, a haulier is asked to quote a price for picking up, say, 50 squares 1-in. by 6-in. flooring lying in the Surrey Commercial Docks and delivering to a place some miles away.
Not having carted timber before, he makes inquiries and eventually ascertains the approximate weight. We will assume that he executed the work to his, and the customer's, satisfaction.
A few weeks later he is approached by another merchant, who wants a price for hauling " 70 squares 1 by 6 boards" about the same distance. Referring to his records of the previous job in order to find out the weight—the size of the wood being the same—he bases his price accordingly, and receives the order.
When it comes to executing the work he is greatly. surprised to find that he has much underestimated the weight and, consequently, -the price, too l Why/ The reason is that when a timberman says: "1 by 6 boards," he means nnplaned boards, which actually measure 1 in. by 6 ins., whereas 1-in, by 6-in. flooring means planed boards, which in actual size are only fin, by f ins. and, therefore, are lighter in weight.
Many a haulier has made a loss, instead of a profit, through not knowing that custom of the timber trade. On all planed wood it can be reckoned that f in. comes off the thickness, and f in. off the width of the stated size.
Where Hauliers Err.
Another factor to be remembered is the difference in weight between the various woods_ Hardwoods, such as oak, ash, teak, birch, walnut, maple, etc., are, of course, much heavier than yellow and white deal. But a wood over which many hauliers stumble into error is pitch pine.
To the average person with a scanty knowledge of timber, the word " pine " conveys the impression that the wood is soft, mild in nature and light of weight ; which is true of most pines. Pitch pine is the exception. This wood is equal in weight to oak.
The following facts regarding the weight of timber may be of service to those who are not accustomed to handling wood: In the timber trade it is reckoned that 40 ft. cube hardwood equals 1 ton ; 1 standard white or yellow deal, 2f tons, and 1 standard white or yellow deal, planed (matching and flooring), 2 tons 2 cwt.
Weights of Different Woods.
Deal, yellow or white, varies little in weight, but the case is different with "hardwood," a term whic..h embodies multitudinous woods of various weights. These are the weights of a few well-known and commonly used hardwoods:—
Thus, although 40 ft. cube of hardwood is reckoned to weigh a ton, it will be seen that where one particular wood alone is carried, and not a mixed consignment, the number of cubic feet to the ton will vary considerably.