Who Should Vary Licence ?
30th October 1936
Page 32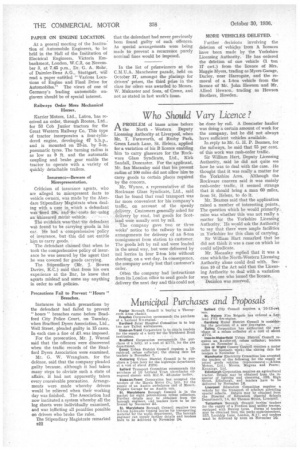 Page 32, 30th October 1936 —
Who Should Vary Licence ?
Close
A PROBLEM of bases arose before .t-1. the North Western Deputy Licensing Authority at Liverpool, when Mr. T. Farnworth, of Rusby Park, Green Leach Lane, St. Helens, applied for a variation of his B licence enabling him to carry glassware for the Rockware Glass Syndicate, Ltd., Kirk Sandal', Doncaster. For the applicant, Mr. tan Macaulay said that his present radius of 100 miles did not allow him to carry goods to certain places required by the concern.
Mr. Wynne, a representative of the Rockw-aze Glass Syndicate, Ltd., said that he found that road transport was far more convenient for his company's traffic, on account of the speedy delivery.. Customers generally asked for delivery by road, but goods for Scotland were usually sent by rail.
The company gave two or three weeks' notice to the railway to make arrangements for delivery of an 8-ton consignment from station to customer. The goods left by rail and were loaded in the usual way, but were delivered by rail lorries in four 2-ton lots without sheeting, on a wet day. In consequence, the company nearly lost that customer's order.
Often the company had instructions from its London office to send goods for delivery the next day and this could not be done by rail. A Doncaster haulier was doing a certain amount of work for the company, but he did not always have sufficient vehicles available.
In reply to Mr_ G. H. P. Bearnes, for the railways, he said that 75 per cent. of this work was rush-order traffic.
Sir William Hart, Deputy Licensing Authority, said he did not quite see how he was to deal with the case. He thought that it was really a matter for the Yorkshire Area. Although the Rockware concern said it was mainly rush-order traffic, it seemed strange that it should bring a man 60 miles, from St. Helens, to do it.
Mr. Beanies said that the application raised a number of interesting points.. The question which he would primarily_ raise was whether this was not really a ' matter for the Yorkshire Licensing Authority. He would ask the Authority to say that there' were ample facilities in Yorkshire for this class of carrying.
Sir William Hart remarked that he did not think it was a case on which he could adjudicate.
Mr. Macaulay replied that it was a case which the North-Western Licensing Authority alone could deal with. Section 10 of the Act said that the Licensing Authority to deal with a variation was the one who issued the licence.
Decision was reserved.