HAULIERS ENQUIRE WITHIN.
30th October 1923
Page 31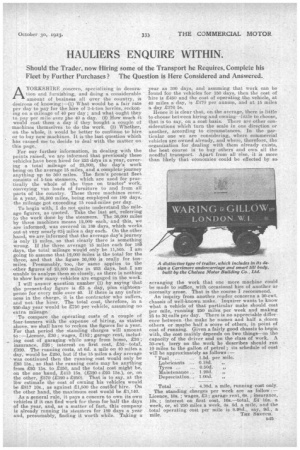 Page 31, 30th October 1923 —
HAULIERS ENQUIRE WITHIN.
Close
Should the Trader, now Hiring some of the Transport he Requires, Complete his Fleet by Further Purchases ? The Question is Here Considered and Answered.,
AYORKSHIRE _concern, specializing in decoration and furnishing, and doing a considerable amount of business all over the country, is desirous of knowing :—(1) What would be a fair rate per day to pay for the hire of 3-4-ton lorries, reckoning on a mileage of 40 per day ; and what ought they to pay per mile over the 40 a day. (2) How much it would cost them a day if they bought a couple of machines themselves to do the work. (3) Whether, on the whole, it would be better to continue to hire
. or to buy new machines. It is the last question which has caused me to decide to deal with the matter on this page.
For our further information, in dealing with the points raised, we are informed that previously these vehicles have been hired for 253 days in a year, covering a total mileage of 23,800, the day's work being on the average 15 miles, and a complete journey anything up to 500 miles. The firm's present fleet consists of 5-ton steamers, which are used for practically the whole of the time on tractor* work, conveying van loads of furniture to and from all parts of the Country. These three machines cover, in a year, 36,000 miles, being employed on 189 days, the mileage pot exceeding 15 road-miles per day.
To begin with, I do not quite understand the mileage figures, as quoted. Take the last set, referring to the work done by the steamers. The 36,000 miles by three machines means 12,000 each, and this, we are informed, was covered in 189 days, which works out at very nearly 63i miles a day each On the other hand, we are informed that the average day's journey 'is only 15 miles, so that clearly there is something wrong. If he three average 15 miles each for 1813 days, the total mileage would only be 11,606. I am going to assume that 12,000 inileii is the total for the three, and that the figure 36,900 is really for tonmiles. Presumably, too, ;hesame applies to the other figures of 23,800 miles in 253 days, but I am !unable to analyee them so closely, as there is nothing to show how many vehicles are engaged in the work.
I will answer question number (1)by saying ' that the present-day figure is 23 a day, plus eighteenpence for every mile over 40. If there is any Unfairness in the charge, it is the contractor who suffers, and not the hirer. The total cost, therefore, in a 250-day year would be 2750 per vehicle, assuming no extra mileage.
To compare the operating costs of a couple of four-tonners with the expense of hiring, as stated above, we shall have to reckon the figures for a year. For that period the standing charges will amount to : —Licence, £30; wages, £182; garage rent, including cast of garaging while away from home, £30; insurance, £26; interest on first cost; 252---total, 2320. The running costs, at ed. a mile on 40 miles a day, would be £250, but if the 15 miles a day average was continued then the running cost would only be 293 15s., so that the running costs may be anything from 293 15s. to 2250, and the total cost might be, on the one hand, .2413 15s. (2320+293 15s.), or, on the other, 2570 (2320+,2250). That is to say, at the low estimate the cost of owning his vehicles would be 2817 10s., as against 21,500 the cosOof hire. On the other hand, the maximum cost would be 21,140.
As a general rule, it pays a concern to own its own vehicles if it can find work for them for half the days of the year, and, as a matter of fact, this company is already running its stearners for 189 days a year and, presumably, finding it worth while. TaYing a year as 300 days, and assuming that work can be found for the vehicles for 150 days, then the cost of hire is 2450 and the cost of operating the vehicle, at 40 miles a day, is 2470 per annum, and at 15 miles a day 2376 5s. Hence it is clear that, on the average, there is little to choose between hiring anal owning—little to choose, that is to say, on a cost basis. There are other considerations which turn the scale in one direction or another, according to circumstances. In the particular one we are considering, where commercial vehicles are owned already, and where, therefore, the organization for dealing with them already exists, the best course is to buy others and own all the needful transport. Apart from all else, it is more than likely that economies could be effected by so arranging the work that one more machine could be made to suffice, with occasional hire of .another ar necessity arose. That is the course I recommend. An inquiry from another reader concerns a 30-cwt. chassis of well-known make. Inquirer wants to know what a vehicle of that particular make should cost per mile, running 250 miles per week and making 25 to 3Q calls per day. There is no appreciable difference between -the make he names and half a, dozen othera or maybe half a score of others, in point of cost of running. Given a fairly good chassis to begin with, the cost mainly depends on two things—on the capacity of the driver and on the class of work. A 30-cwt. lorry on the work he describes should run 10 miles to the gallon of petrol ; its schedule of cost • will be approximately as follows :— The standing charges per week are as follow :— Licence, 10s. ; wages, 23; garage rent, 6s. ; insurance, 10s. ; interest on first cost, 10s.—total, 24 16s. a week, or, at 250 miles a week, 4s. 6d. a mile, and the total operating cost per mile is 8.98d., say, 9d., a
. THE SKOTCH.