REMARKABLE MOTORBUS PERFORMANCES.
30th October 1923
Page 30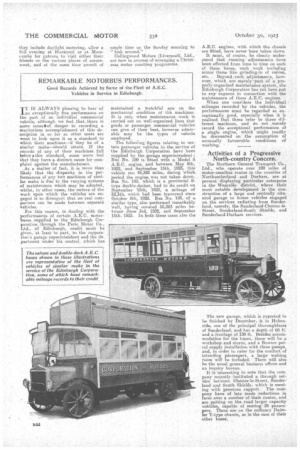 Page 30, 30th October 1923 —
REMARKABLE MOTORBUS PERFORMANCES.
Close
Good Records Achieved by Some of the Fleet of A.E.C. Vehicles in Service in Edinburgh.
IT IS ALWAYS pleasing to hear of an exceptionally fine performance on the part of an individual commercial vehicle, although we feel that,there is some sensernof, danger in recording a Meritorious 'accomplishment of this description in so far as other users are wont to look upon it as a standard to which their machines—if they he of a similar make—should attain. If the records of any of their machines fall lbelows this standard, some users feel that they havfra distinct cause for complaint against the manufacturers.
_As a matter of fact, it is more than likely that the disparity in the performances of any two machines of similar make is due to the varying systems of maintenance which may be adopted, whilst, in other cases, the nature of the work upon which the vehicles are engaged is so 'divergent that no real comparison can be made between separate vehicles.
For this reason, in dealing with the performances of certain A.E.C. motorbuses supplied to the Edinburgh Corporation through the Perk, Motor Ltd., of Edinburgh, credit must be given, at least in part, to the corpora, tion'S garage superintendent and the de partment under his control, •which has ....... . . ...... maintained a watchful eye on the mechanical condition of the machines. It is only when maintenance work is carried out on well-organized lines that goods or passenger commercial vehicles can give of their best, however admirable may be the types of vehicle employed.
The follou7ing figures relating to certam passenger vehicles in the service of the Edinburgh Corporation have been supplied by the garage superintendent : Bus No. 180 is fitted with a Model 5 A.E.C. engine, and between May 8th, 1922, and September 15th, 1923, this vehicle ran 45,342 miles, during which period the engine was not taken dawn. Bus No. 192. which is a provincial 5type double-decker, had to its credit on September '15th, 1923, a mileage of 32,316, which had been traversed since October 8th, 1922. Bus No. 193, of a similar type, also performed remarkably well, having covered 55,283 miles •between June 3rd, 1922, and September 15th. 1923. In both these cases also the
A.E.C. engines, with which the chassis are fitted, have never been taken down.
It must, of course, be clearly under'stood that running • adjustments have been effected from time to time on each nf these buses, such work including minor items like grinding-in of valves,
etc. Beyond!such adjustments, however, which are merely 'part of a properly-organized maintenance system, the Edinburgh Corporation has not been put to any expense in connection with the maintenance of these A.E.C. engines.
When one considers the individual mileages recorded by the vehicles, the performances must be regarded as exceptionally good, especially when it is realised that these refer to three different machines, and do not ,merely record the exceptional performance of a single engine, which might readily be discounted on the assumption of unusually favourable conditions of working.
Activities ofa Progressive . North-country Concern.
The Northern general Transport Co., Ltd., who operate over 100 miles of motor-omnibus routes in the counties of Northumberland and Durham, areat present displaying particular enterprise in the Wearsidedistrict, where their most notable development is the construction of a large and centrally situated garage to house vehicles engaged on the services radiating from Sunderland, namely, the Sunderland-Chester-leStreet, Sunderland-South Shields, and Sunderland-Durham services.
The new garage, which is expected to be finished by December, is in Holmeside, one of the principal thoroughfares of Sunderland, and has a depth of 60 ft. and a frontage of 130 ft. Besides accommodation for the buses, there will be a workshop and stores, and a Bowser petrol supply installation with three pumps, and, in order to cater for the comfort of intending passengers, a large waiting room will he included. There will also be the usual general business offices and an inquiry bureau.
It is interesting to note that the company recently instituted a through service between Chester-le-Street, Sunderland and South Shields, which is meet ing with generous support. The coinpany have of late made reductions in fares over a number of their routes, and are putting on the road larger capacity vehicles, capable of seating 38 passengers. These are on the ordinary Daimler Y-type chassis, as in the case of their other buses.