PREPARATIONS FOR AUTUMN TOURS.
30th October 1923
Page 29
Page 30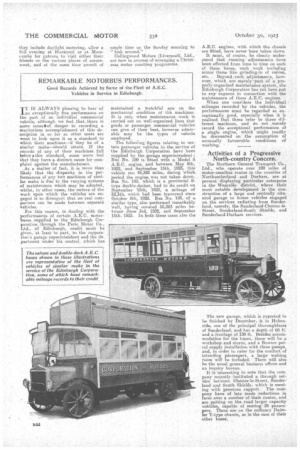 Page 29, 30th October 1923 —
PREPARATIONS FOR AUTUMN TOURS.
Close
The Efforts of a Liverpool Coaching Concern to Popularize Road Travel in the Late Months of the Year.
COLLINGWOOD MOTORS (LIVER4,-/POOL), LTD., who operate a fleet of four 28-seater Daimler coaches, and who for the past three years have maintained uninterruptedly, during the middle months of the year, a daily service between Blackpool and Liverpool, are showing considerable enterprise in endeavouring to popularize autumn touring. They are now arranging special week-end tours, occupying Saturday afternoon and Sunday, and assuring a
week-end's liberal enjoyment at a cost of about 21s. 6d.
As an example of how these tours are conducted, it may be mentioned that on a recent Saturday afternoon a coach left Liverpool at L30 p.m. and proceeded to Longton, where there was a short break for passengers to partake of afternoon tea. The journey was then continued to Morecambe, arriving .at an appointed hotel in time to enable passengers to have a stroll along the promenade before dinner, which, consisting of four courses was served at 6.30, Free tickets
were then supplied to the a entitling them to admission to the dotecambe Tower cinemas or ballroom. The Sunday morning was at the disposal of passengers, and at 2 o'clock the homeward journey to Liverpool was commenced.
These special week-end tours to Blackpool, Morecambe, and other places are intended to be the special feature of Messrs. Collingwood's enterprise, and if there is not a load for a coach private cars are utilized. For the week-end of October 20th, Messrs. Collinnvood ran two tours on these lines, one for Blackpool and the other for Morecambe. The company have now decided to cater for week-end parties for Blackpool and Morecambe on every other Saturday (a start was made on October 27th), the fares being 21s. 6d. and 25s. 6d, respectively, which, of MIME, are inclusive.
The advantage of these tours is that they include daylight motoring, allow a full evening at Blackpool or at Morecambe for patrons to visit either their friends or the various places of amusement, and at the same time permit of ample time on the Sunday morning to "look around."
Collingwood Motors, (Liverpool)' Ltd., are now in process of arranging a Christmas motor coaching programme.