A RANGE OF LIGHT VANS FROM COVENTRY.
30th October 1923
Page 27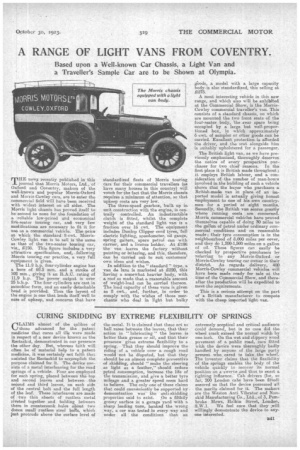 Page 27, 30th October 1923 —
A RANGE OF LIGHT VANS FROM COVENTRY.
Close
Based upon a Well-known Car Chassis, a Light Van and a Traveller's Sample Car are to be Shown at Olympia.
MHE new recently published in this journal that Morris Motors, Ltd., of Oxford and Coventry, makers of the well-known and popular Morris-Oxford and Morris-Cowley ears, are to enter the commercial field will have been received with widest, interest on all sides. The Morris light chassis has proved itself to be second to none for the foundation of a reliable low-priced and economical five-seater Louring car, and very few modifications are necessary to fit it for u-.6 as a commercial vehicle. The price at. which the standard 8-ewt. MorrisCowley light van is to sell is the same as that of the two-seater touring car, viz., 2198. This figure includes a very attractive specification, and, following Morris Louring car practice, a very full equipment is given.
The 11.9 h.p. four-cylinder engine has a bore of 59.5 trim, and a stroke of 102 ram., giving it an R,A.C. rating of 11.9 lip. The power output is over 25 .b.h.p. The four cylinders are cast in monciblec form, and an easily detachable head is provided. Thus the layout of the engine is one that lends itself well to ease of upkeep, and concerns that have
standardized fleets of Morris touring cars for their commercial travellers (as have many houses in this country) will vouch for the fact that the Morris chassis requires a minimum of attention, so that upkeep costa are very low. The three-speed gearbox-, built up in unit construction with the engine, is centrally controlled. An indestructible clutch is fitted, whilst the complete weight of the standard light van is a fraction over 16 cwt. The equipment includes Dunlop Clipper cord tyres, full electric lighting, speedometer, oil gauge, spring gaiters, spare petrol can with carrier, and a licence holder. At 21913 the van leaves the factory without painting or lettering, and this, therefore, can be carried out to suit customers' own ideas and wishes.
In addition to the " standard " type, a van de luxe is marketed at .2220, this having a somewhat heavier body, with a roof so made that a reasonable amount of weight-load can be carried thereon. The load capacity of these vans is given as 8 cwt., and, further, in order to comply with the wishes of those merchants who deal in light but bulky goods, a model with a large capacity body.is also standardized, this selling at 2275.
A most interesting vehicle in this new range, and which also will he exhibited at the Commercial Show, is the Morris
Cawley commercial traveller's van. This consists of a standard chassis, on which are 'mounted the two front seats of the four-seater, body, The .rear space being occupied by a large but well-proportioned box, in which approximately 6 cwt. of samples or other goods can be carried, 'Excellent protection is afforded the driver, and the seat alongside him is suitably upholstered for a passenger.
The British light van, as we have previously emphasized, thoroughly deserves the notice of every prospective purchaser for two chief reasons. In the first place it is British made throughout; it employs British labour, and a consideration of the number of man-hours involved in the building of such a vehicle shows that the buyer who purchases a British-made van in place of an imported model is actually giving honest employment to one of his own countrymen for a period of eight months. Secondly, the British van /scores greatly where running costs are concerned. Morris commercial vehicles have proved themselves capable of doing 30 miles to the gallon of petrol under ordinary commercial conditions and on reasonable roads; their tyre consumption is in the neighbourhood of 8,000 miles per cover, and they do 1,200-1,500 miles on a gallon of oil. These 'figures can easily be checked by prospective purchasers by referring to any Morris-Oxford or Morris-Cowley touring car owner in their diets-let.As regards delivery, 400 Morris-Cowley commercial vehicles will have been made ready for sale at the time 'of the Commercial Show, and thereafter the production will be expedited to meet the requirements.
This ie a serious attempt on the part of a British manufacturer to compete with the cheap imported light, ran.