CLOSING DATE FOR OUR 050 OFFER.
30th October 1923
Page 2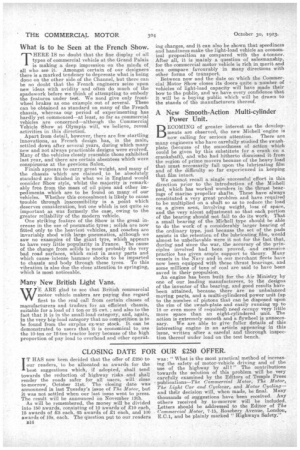 Page 2, 30th October 1923 —
CLOSING DATE FOR OUR 050 OFFER.
Close
IT HAS now been decided that the offer of £250 to our readers, to be allocated as awards for the beat suggestions which, if adopted, shall tend towards the reduction of highway risks and shall render the roads safer for all users, will close to-morrow, October 31st. The closing date was announced in last Tuesday's issue of The Motor, but it was not settled when our last issue went to press. The result will be announced on November 13th.
As will be remembered, the money will be divided into 150 awards, consisting of 10 awards of 210 each, 15 awards of 25 each, 25 awards of 21 each, and 100 awards of 102. each. The question put to our readers B16 was : "What is the most practical method of increasing the safety of motor-vehicle driving and of the use of the highway by all " The contributions towards the solution of this problem will be very carefully examined by the Editors of Temple Press publioa,tions—The Commercial Motor, The Motor, The Light Car and Cyclecar, and Motor Cycling— and their decision will, when made, be final. Many thousands of suggestions have been received. Any others received by to-morrow will be included. Letters should be addressed to the Editor of The Commercial Motor, 7-15, Rosobery Avenue, London, RCA, and be plainly marked "Highways Safety."