THE PARIS COMMERCIAL MOTOR EXHIBITION.
30th October 1923
Page 15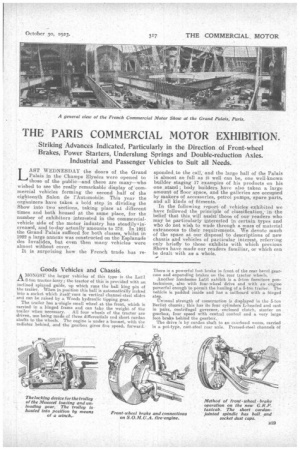 Page 15, 30th October 1923 —
THE PARIS COMMERCIAL MOTOR EXHIBITION.
Close
Striking Advances Indicated, Particularly in the Direction of Front-wheel Brakes, Power Starters, Underslung Springs and Double-reduction Axles. Industrial and Passenger Vehicles to Suit all Needs.
LAST WEDNESDAY the doors of the Grand Palais in the Champs Elysees were opened to those of the public—and there arc many—who wished to see the really remarkable display of corn, mercial vehicles forming the second half of the eighteenth Salon de l'Automobile. This year the organizers have taken a bold step in dividing the Show into two sections, taking place at different times and both housed at the same place, for the number of exhibitors interested in the commercialvehicle side of the motor industry has steadily i in: creased, and to-day actually amounts to 372. In 1921 the Grand Palais sufficed for both classes, whilst in 1922 a large annexe was constructed an the Esplanade des Inv&Meg, but even then many vehicles were almost without cover.
It is surprising how the French trade has re sponded, to the call, and the large hall of the Palais is almost as full as it well can be, one well-known builder staging 17 examples of his products on his one stand ; body builders have also taken a large amount of 'floor space, and the galleries are occupied by makers of accessories, petrol pumps, spare parts, and all kinds of fitments. • In the following report of vehicles exhibited we have followed the principle of classification, in the belief that this, will assist those of our readers who may be particularly interested in certain types and who do not wish to wade through a mass of material extraneous to their requirements. We devote much of the space at our disposal to descriptions of new chassis and vehicles of particular interest, referring only briefly to those exhibits with which previous Shows have made our readers familiar, or Which can be dealt with as a whole.