A 20-MILE TRIAL LINE FOR THE STRONACH-DUTTON SYSTEM.
30th October 1923
Page 13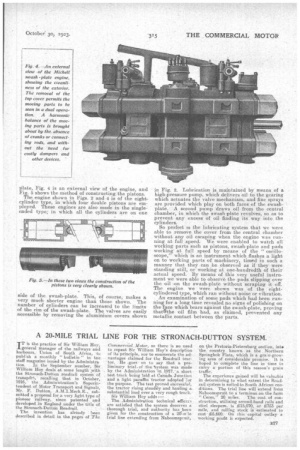 Page 13, 30th October 1923 —
A 20-MILE TRIAL LINE FOR THE STRONACH-DUTTON SYSTEM.
Close
IT is the practice of Sir William Hoy, general manager of the railways and harbours, Union of South Africa, to publ'sh a monthly " bulletin " in tile staff magazine issued by the Administra, tion. In the September number, Sir William Hoy deals at some length with the Stronach-Dutton roadrail system of transp4rt, recalling that in October, 1916, the Administration's Superintendent of Motor Transport and Signals, Mr. F. Dutton, A.ALI,Mech.E., submitted a proposal for a very light type of pioneer railway, since patented. and developed in England under the title of the Stronach-Dutton Roadrail.
The invention has alrea.dy been described in detail in the pages of 'The Commere.iill Motor, so there is Ito need to repeat Sir William Hoy's description of its principle, nor to enumerate the advantages claimed for the Roadrail trac'tor. He .goes on to say that a preliminary trial, of the 'system was made . by the Administration in. 1917...a short . test, track befriglaid at Canada. Junction and a, light paraffin -tractor adopted for the purpose. The test proved successful, the tractor rising steadily and hauling a. substantial load over a very rough track. Sir William Hoy adds : The. Administration technical officer:, are satisfied that the system deserves a thorough trial, and authority has been given for the construction of a, 20.-th"le trial line extending from Naboomspruit, on the Pretoria-Fietersburg section, into 'the,country known as the Northern Springbok •Flats, which is a grain-grow ing area of considerable promise. it is -hoped to complete the line in time lo carry a portion of this season's grain traffic.
The experience gained will be valuable in determining to what extent. the Roadrail system is suited-to South African conditions. The trial line will extend from Naboomspruit to a terminus,on the farm
" Ceres," 20 miles. The cost. of construction, utilizing second-hand rails and steel sleepers, is £15,070, Or £755 per mile, and rolling stock is estimated to cost L5,600. On this capital outlay a working yrofit is expected.