•IMPROVED DOUBLE CANTILEVER SUSPENSION.
30th October 1923
Page 11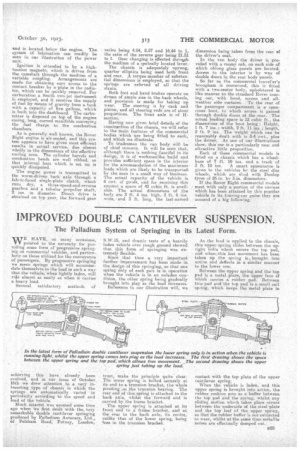 Page 11, 30th October 1923 —
•IMPROVED DOUBLE CANTILEVER SUSPENSION.
Close
The Palladium System of Springing in its Latest Form.
E HAVE, on many occasions, pointed to the necessity for providing some form or progressive springing on commercial vehicles, and particularly on those utilized for the conveyance of passengers. By progressive springing we mean springs which will accommodate themselves to the load, in such a way that the vehicle, when lightly laden, will ride almost as easily as when it carries a heavy lead.
Several satisfactory methods of
achieving this have already been evolved, and in our issue of October 16th we drew attention , to a_ very interesting ,t,s4.3 of chassis in which the springs are automatically varied • in periodicity according to the speed and load of the Vehicle.
Much interest was aroused some time ago when We first dealt-with the very remarkable double cantilever springing produced by Palladium Autocars, Ltd.,. of Felsham Road; Putney, London,
S.W.15, and drastic tests of a heavily laden vehicle over rough ground showed that this form of springing was extremel+ flexible.
Since that time a very important further improvement has been made in the design of this springing, so that one spring only of each pair is in operation when the vehicle is in an unladen condition, the other spring being gradually brought into play as the load increases. Reference to our illustration will, we trust, make the pyinciple, quite clear. The lower spring is bolted securely at its end to a trunnion bracket, the whole pivoting ,on the trunnion bearing. The rear end of this Spring is attached to the back axle, whilst the forward end is carried by the frame bracket. The upper spring is attached at its front end to a frame braeket,. and at the rear to the back axle, its centre, unlike that of the lower spring, being free in the trunnion bracket.
As the load is applied to the chassis, this upper spring slides between the upright bolts which secure the top pad, and when;this•lost movement has been taken up the spring is. brought into action and deflects in a similar manlier to the lower one.
I3etween the upper spring and the top pad is a metal plate, the upper face of which carries a rubber pad. Between this pad and the top pad is a small coil ' spring, which keeps the metal plate in contact with the top plate of the upper cantilever spring. When the vehicle is laden, and this upper spring is brought into action, the rubber cushion acts as a buffer between the top pad and the spring, whilst any sliding motion which takes place occurs between, the underside of the steel•plate and the top leaf of the upper spring, so that the rubber buffer is not subjected to wear, whilst atthe same time metallio noises are effectually damped out.