Budget: hauliers take another hit
30th November 1995
Page 6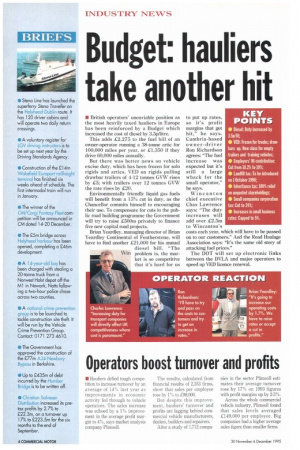 Page 6, 30th November 1995 —
Budget: hauliers take another hit
Close
• British operators' unenviable position as the most heavily taxed hauliers in Europe has been reinforced by a Budget which increased the cost of diesel by 3.5p/litre.
This adds £2,275 to the fuel bill of an owner-operator running a 38-tonne artic for 100,000 miles per year, or £1,350 if they drive 60,000 miles annually.
But there was better news on vehicle excise duty, which has been frozen for solo rigids and artics. VED on rigids pulling drawbar trailers of 4-12 tonnes GVW rises by £5; with trailers over 12 tonnes GVW the rate rises by £20.
Environmentally friendly liquid gas fuels will benefit from a 15% cut in duty, as the Chancellor commits himself to encouraging their use. To compensate for cuts in the public road building programme the Government will try to raise £500m privately to finance five new capital road projects.
Brian Yeardley, managing director of Brian Yeardley Continental of Featherstone, will have to find another £21,000 for his annual diesel bill. "The illta;kin problem is, the mar' ket is so competitive that it's hard for us to put up rates, so it's profit margins that get hit," he says. Cumbria-based owner-driver Ron Richardson agrees: "The fuel increase was expected but it's still a large whack for the small operator," he says.
Wincanton chief executive Chas Lawrence says: "The duty increases will add over £2.5m to Wincanton's costs each year, which will have to be passed on to our customers." And the Road Haulage Association says: "It's the same old story of attacking fuel prices."
The DOT will set up electronic links between the DVLA and major operators to speed up VED licence renewal.
• Small companies corporation tax: Cut to 24%; • Increases in small business rates: Capped to 5%.