W ho says Scotsmen are mean? Scottish used truck dealers are prepared to spend a lot on refurbishing their retail stock.
30th November 1995
Page 42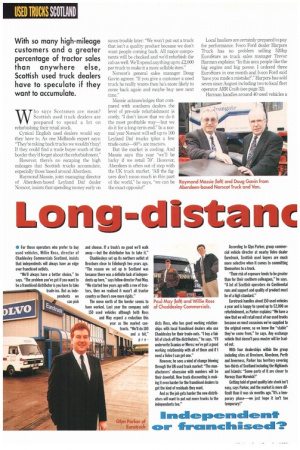 Page 43
Page 44
Page 42, 30th November 1995 —
W ho says Scotsmen are mean? Scottish used truck dealers are prepared to spend a lot on refurbishing their retail stock.
Close
Cynical English used dealers would say they have to. As one Midlands expert says: "They're taking back trucks we wouldn't buy! If they could find a trade buyer south of the border they'd forget about the refurbishment."
However, there's no escaping the high mileages that Scottish trucks accumulate, especially those based around Aberdeen.
Raymond Massie, joint managing director of Aberdeen-based Leyland Daf dealer Norscot, insists that spending money early on saves trouble later: "We won't put out a truck that isn't a quality product because we don't want people coming back. All major components will be checked and we'd refurbish the cab as well. We'll spend anything up to £2,000 per truck to make it a more sellable item."
Norscot's general sales manager Doug Gavin agrees: "If you give a customer a used truck he really wants then he's more likely to come back again and maybe buy new next time," Massie acknowledges that compared with southern dealers the level of pre-sale refurbishment is costly. "I don't know that we do it the most profitable way—but we do it for a long-term end." In a normal year Norscot will sell up to 100 Leyland Daf trucks (plus a few trade-outs)-60% are tractors.
But the market is cooling. And Massie says this year "we'll be lucky if we retail 70". However, Aberdeen is often out of step with the UK truck market. "All the figures don't mean much in this part of the world," he says, "we can be the exact opposite!" Local hauliers are certainly prepared to pay for performance. Iveco Ford dealer Harpers Truck has no problem selling 520hp EuroStars as truck sales manager Trevor Harman explains: "In this area people like the big engine and big power. I ordered three EuroStars in one month and Iveco Ford said have you made a mistake?'." Harpers has sold seven since August including two to local fleet operator ARR Craib (see page 32).
Harman handles around 40 used vehicles a year split evenly between retail and trade: "We traditionally tend to trade down south as we'd probably get as good a price down there. But we'll retail 7.5-tonners as they're popular—both EuroCargo and old Cargo." Harman also reports a market slow-down: "And values are dropping too. Our retail used sales aren't particularly clever and whereas traders used to call, I'm now having to call them."
While the North Sea oil business still provides work for local hauliers, the gold rush days are over, reckons Bill Rennie, director of Aberdeen MAN dealer Rennie & Nicol Commercials. "But what we lost in the oil industry we make up in the fish industry," he says. "We'll take off our jackets and go into the fish house!"
As well as delivering about 80 new chassis annually—including a large number of 375hp-plus tractors—R&N sells up to 150 used trucks in a good year with the majority being retailed locally. However, Rennie isn't restricted to his home turf: "We're very active in the south buying decent trucks and also taking MAN buybacks." R&N even has a selfemployed "spotter" working for it in the home counties. "It's a long journey up here, they can take it back if it isn't right!"
Like Not-scot R&N can spend up to £2,000 on refurbishing a used vehicle in order to win a customer. And there's also the future servicing and spares business.
R&N also sees the used market contacting. "Business is still one hell of a gamble," says fellow director Keith Nicol. "What's worrying us is that it's becoming easier to operate a new leased truck than pay £20,000 for a good used vehicle.
'And November and December is never a clever time to sell a truck—nobody wants to pay money then."
The advent of Charterway has clearly found favour with Mercedes-Benz dealer Northside Truck Centre—not least when it comes to providing information on exCharterway vehicles which are wholesaled to M-B dealers through the manufacturer's Used Truck Centre at Wentworth park.
Information on ex-contract hire trucks is available through an on-line system which all
41 the dealers can access. "The facility is amazing." says dealer principal Russell Duthie. "You can see on the screen whether it's a light, medium or heavy and get a computer-generated specification print-out instantly. And we can get a colour shot of the truck the next day"
"Within 10 minutes you can produce a quote," adds Northside's contract hire manager Sam Barrack. "We can now view a used vehicle and offer it to the customer, rather than buy it and have it sitting as stock"
The system undoubtedly takes the doubt out of buying, says Duthie: "We're selling vehicles nine times out of 10 before they get here. Not only that—if a customer asks for
something we can go to M-B for it." In a good year Northside will sell up to 200 used vehicles from vans to tractors although Duthie expects the figure for '95 to be more like 160.
Getting good late stock certainly isn't easy, says Duthie: "That's where the Charterway connection scores."
It's not unusual for Northside to spend £1,000 on vehicle refurbishment. "We don't have the volume to trade out so we have to refurbish," says Duthie.
But the payoff really comes through a satisfied customer. As Duthie points out: "When you go into a trader you're stepping into the unknown."
E by Brian Weatherley