Long-distanc
30th November 1995
Page 42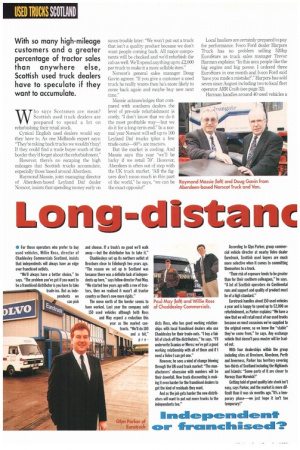 Page 42, 30th November 1995 —
Long-distanc
Close
• For those operators who prefer to buy used vehicles, Willie Ross, director of Chaddesley Commercials Scotland, insists that independents will always have an edge over franchised outlets.
"We'll always have a better choice," he says. "The problem you've got if you want to be a franchised distributor is you have to take trade-ins. But as independents we can pick and choose. If a truck's no good we'll walk away—but the distributor has to take it" Chaddesleys set up its northern outlet at Broxburn close to Edinburgh two years ago. "The reason we set up in Scotland was because there was a definite lack of independents up here," says fellow director Paul May. "We started two years ago with a row of tractors, then we realised it wasn't all tractor country so there's now more rigids."
The move north of the border seems to have worked. Last year the company sold 150 used vehicles although both Ross
and May expect a reduction this year as the market contracts. "We'll do 100 and a bit,'' p r e
diets Ross, who has good working relationships with local franchised dealers who use Chaddesley for their trade-outs. "I buy a fair bit of stock off the distributors," he says. "I'll underwrite Scanias or Mercs: we've got a good working relationship with all of them and if I need a Volvo I can get one."
However, he sees a wind of change blowing through the UK used truck market: "The manufacturers' obsession with numbers will be their downfall. New truck discounting is making it even harder for the franchised dealers to get the kind of residuals they want.
And as the job gets harder the new distributors will want to put out more trucks to the independents too." According to Glyn Parker, group commercial vehicle director at nearby Volvo dealer Eurotruck. Scottish used buyers are much more selective when it comes to committing themselves to a truck.
-Their risk of exposure tends to be greater than for their southern colleagues," he says. "A lot of Scottish operators do Continental runs and support and quality of product must be of a high standard."
Eurotruck handles about 150 used vehicles a year and is happy to spend up to £2,000 on refurbishment, as Parker explains: "We have a view that we will retail most of our used trucks because on most occasions we've supplied to the original owner, so we know the "stable" they've come from," he says. Any exchange vehicle that doesn't pass muster will be traded out.
With four dealerships within the group including sites at Broxbum, Aberdeen, Perth and Inverness, Parker has territory covering two-thirds of Scotland including the Highlands and Islands: "Some parts of it are closer to Norway than Warwick!"
Getting hold of good quality late stock isn't easy, says Parker, and the market is more difficult than it was six months agolt's a temporary phase—we just hope it isn't too temporary!"