On the day CM called on milk haulier D Malloch
30th November 1995
Page 40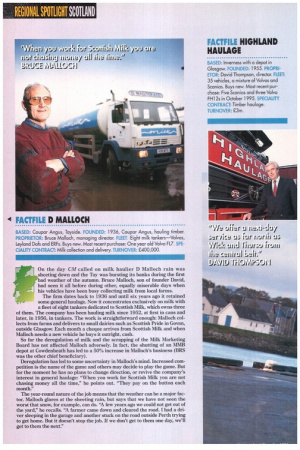 Page 40, 30th November 1995 —
On the day CM called on milk haulier D Malloch
Close
rain was sheeting down and the Tay was bursting its banks during the first bad weather of the autumn. Bruce Malloch, son of founder David, had seen it all before during other, equally miserable days when his vehicles have been busy collecting milk from local farms.
The firm dates back to 1936 and until six years ago it retained some general haulage. Now it concentrates exclusively on milk with a fleet of eight tankers dedicated to Scottish Milk, which owns three of them. The company has been hauling milk since 1952, at first in cans and later, in 1956, in tankers. The work is straightforward enough: Malloch collects from farms and delivers to small dairies such as Scottish Pride in Govan, outside Glasgow. Each month a cheque arrives from Scottish Milk and when Malloch needs a new vehicle he buys it outright, cash.
So far the deregulation of milk and the scrapping of the Milk Marketing Board has not affected Malloch adversely. In fact, the shutting of an MMB depot at Cowdenbeath has led to a 50% increase in Malloch's business (BRS was the other chief beneficiary).
Deregulation has led to some uncertainty in Malloch's mind. Increased competition is the name of the game and others may decide to play the game. But for the moment he has no plans to change direction, or revive the company's interest in general haulage: "When you work for Scottish Milk you are not chasing money all the time," he points out. "They pay on the button each month."
The year-round nature of the job means that the weather can be a major factor. Malloch glares at the sheeting rain, but says that we have not seen the worst that snow, for example, can do. "A few years ago we could not get out of the yard," he recalls. "A farmer came down and cleared the road. I had a driver sleeping in the garage and another stuck on the road outside Perth trying to get home. But it doesn't stop the job. If we don't get to them one day, we'll get to them the next."