With leaden skies above the Firth of Forth threatening rain,
30th November 1995
Page 38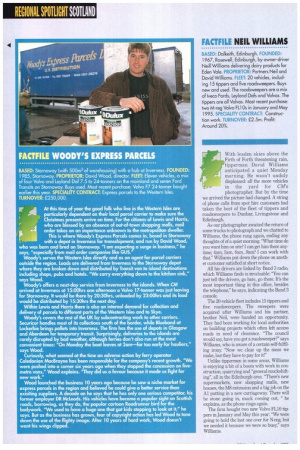 Page 39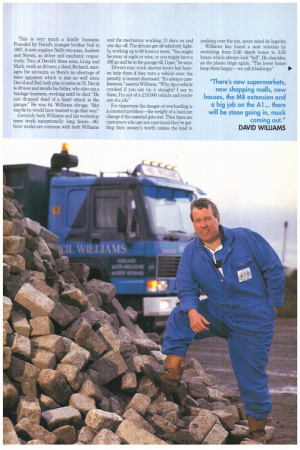 Page 38, 30th November 1995 —
With leaden skies above the Firth of Forth threatening rain,
Close
Keywords :
tipperman David Williams anticipated a quiet Monday morning. He wasn't unduly displeased: all the more vehicles in the yard for CM's photographer. But by the time we arrived the picture had changed. A string of phone calls from spot hire customers had taken the best of the fleet of tippers and roadsweepers to Dunbar, Livingstone and Edinburgh.
As our photographer awaited the return of some trucks to photograph and we chatted to Williams, the phone rang again, ending any thoughts of of a quiet morning. "What time do you want him on site? I can get him there anytime; 4am, 5am, 6am...9am? I can work with that." Williams put down the phone on another customer satisfied at short notice.
All his drivers are linked by Band 3 radio, which Williams finds is invaluable: "You can just tell the drivers, go here, go there. It's the most important thing in this office, besides the telephone," he says, indicating the Band 3 console.
The 20-vehicle fleet includes 15 tippers and five roadsweepers. The sweepers were acquired after Williams and his partner, brother Neil, were handed an opportunity. They had been working for local authorities on building projects which often left access roads in need of clearance. "The council would say, have you got a roadsweeper?" says Williams, who is aware of a certain self-fulfiling irony. "Now we clear up the mess we make, but they have to pay for iv."
Unlike tipperrnen in some areas, Williams is enjoying a bit of a boom with work in construction, quarrying and "general muckshifting", all in the Edinburgh area. "There's new supermarkets, new shopping malls, new houses, the M8 extension and a big job on the Al putting in a new carriageway. There will be stone going in, muck coming out, " he explains, as the phone rings again.
The firm bought two new Volvo FL10 tippers in January and May this year: "We were going to hold the last one over for N-reg, but we needed it because we were so busy" says Williams. This is very much a family business. Founded by David's younger brother Neil in 1967, it now employs Neil's two sons, Andrew and Steven, as driver and mechanic respectively. Two of David's three sons, Craig and Mark, work as drivers; a third, Richard, manages the accounts so there's no shortage of heirs apparent which is just as well since David and Neil both plan to retire at 55. David is 49 now and recalls his father, who also ran a haulage business, working until he died: "He just dropped dead of a heart attack in the garage." He was 64. Williams shrugs. "But maybe he would have wanted to go that way" Certainly both Williams and his workshop team work exceptionally long hours-90hour weeks are common with both Williams and the mechanics working 13 days on and one day off. The drivers get off relatively lightly, working up to 60 hours a week. "You might be away at eight or nine, or you might have a cliff go and be in the garage ti1111pm," he says.
Drivers may work shorter hours but heaven help them if they turn a vehicle over: the penalty is instant dismissal: "It's always carelessness." asserts Williams. "Why tip a vehicle crooked if you can tip it straight? I say to them, I'm out of a £10,000 vehicle and you're out of a job."
For tippermen the danger of overloading is a constant problem—the weight of a load can change if the material gets wet. Then there are customers who are not convinced they're getting their money's worth unless the load is peeking over the top, never mind its legality.
Williams has found a neat solution by switching from 5.5ft depth boxes to 3.5ft boxes which always look "full". He chuckles, as the phone rings again. "The lower boxes
keep them happy—we call it kidology" 10