Exel Logistics takes on Yorkshire drought relief
30th November 1995
Page 11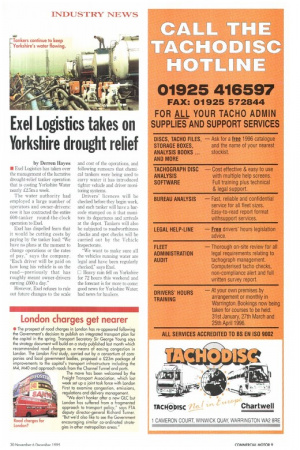 Page 11, 30th November 1995 —
Exel Logistics takes on Yorkshire drought relief
Close
by Derren Hayes • Exel Logistics has taken over the management of the lucrative drought-relief tanker operation that is costing Yorkshire Water nearly £2.5m a week.
The water authority had employed a large number of operators and owner-drivers: now it has contracted the entire 600-tanker round-the-clock operation to Exel.
Exel has dispelled fears that it would be cutting costs by paying by the tanker load: "We have no plans at the moment to change operations or the rates of pay," says the company. Each driver will be paid on how long his vehicle is on the road—previously that has roughly meant owner-drivers earning £600 a day."
However. Exel refuses to rule out future changes to the scale and cost of the operations, and following rumours that chemical tankers were being used to carry water it has introduced tighter vehicle and driver monitoring systems.
Drivers' licences will be checked before they begin work, and each tanker will have a barcode stamped on it that monitors its departures and an-ivals at the depot. Tankers will also be subjected to roadworthiness checks and spot checks will be carried out by the Vehicle Inspectorate.
"We want to make sure all the vehicles running water are legal and have been regularly checked," says Exel.
0 Heavy rain fell on Yorkshire for 72 hours this weekend and the forecast is for more to come: good news for Yorkshire Water; bad news for hauliers.