VW Optare dereg flair o f P i l n r o fo p l i k an backs
30th November 1985
Page 21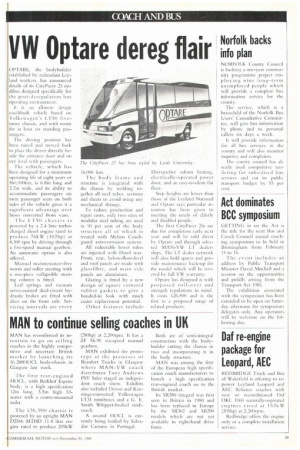 Page 21, 30th November 1985 —
VW Optare dereg flair o f P i l n r o fo p l i k an backs
Close
OPTARE, the bodybuilder established by redundant Leyland workers, has announced details of its City Pacer 25 midibus designed specifically for the post-deregulation bus operating environment.
It is an all-new design coachbuilt vehicle based on Volkswagen's LT 50 fivetonne chassis, and with room for at least six standing passengers.
The driving position has been raised and moved hack to place the driver directly beside the entrance door and on eye level with passengers.
The vehicle, which has been designed for a minimum operating life of eight years or 560,000km, is 6.8m long and 2.2m wide, and its ability to accommodate passengers on twin passenger seats on both sides of the vehicle gives it a significant advantage over buses converted from vans.
The LT5 0 chassis is powered by a 2.4 litre turbocharged diesel engine rated to produce 76kW (102hp) at 4,300 rpm by driving through a five-speed manual gearbox. An automatic option is also offered.
Manual maintenance-free worm and roller steering with a one-piece collapsible steering column is fitted.
Leaf springs and vacuum servo-assisted dual-circuit hydraulic brakes are fitted with discs on the front axle. Servicing intervals are every 16,000 km.
The body frame and structure is integrated with the chassis by welding together all steel tubes, sections and sheets to avoid using any mechanical fittings.
To reduce production and repair costs, only two sizes of modular steel tubing are used in 90 per cent of the body structure all of which is treated with Mebon Coach' guard anti-corrosion system.
All vulnerable lower tuhes are injected with l)inol wax. Front, rear, below-floor-level and roof panels are made with glassfibre, and main side panels are aluminium.
Glazing is fitted by a new design of square cornered rubber gaskets to give a bonded-in look with much easier replacement potential.
Other features include Eberspacher saloon heating, electrically-operated power door, and an easy-to-clean Hat floor.
Step heights are lower than those of die Leyland National and Optare says particular attention has been given to meeting the needs of elderly and disabled people.
The first CityPacer 25s are due for completion early next year and will be sold direct by Optare and through selected MAN-VW LT dealerships. The LT dealer network will also hold spares and provide maintenance back-up for the model which will be covered by lull VW warranty.
Optare has designed it with proposed roll-over and strength regulations in mind. IL costs .1:26,800 and is the first in a proposed range of related products.
NORFOLK County Council is backing a one-year community programme project employing nine long-term unemployed people which will provide a complete bus information service for the county.
The service, which is a brainchild of the Norfolk Bus Users' Consultative Committee, will give bus information by phone and to personal callers six days a week.
It will provide information for all bus services in the county and will also monitor inquiries and complaints.
The county council has already used competitive tendering for subsidised bus services and cut its public transport budget by 55 per Cent.