One Hears— That coal-gas does it.
30th November 1916
Page 3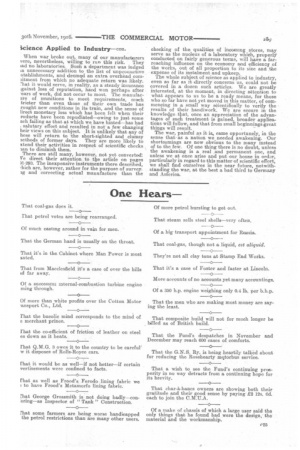 Page 3, 30th November 1916 —
One Hears— That coal-gas does it.
Close
That petrol votes are being rearranged.
Of much casting around in vain for men.
That the German hand is usually on the throat.
That it's in the Cabinet where Man Power is most anted.
That from Macclesfield it's a case of over the hills id far away.
Of a suecesstui internal-combustion turbine engine icing through.
Of more than white profits over the Cotton Motor .ansport Co., Ltd.
That the bucolic mind corresponds to the mind of e merchant prince.
that the co-efficient of friction of leather on steel es down as it heats.
That Q.M.G. 3 owes it to the country to be careful' w it disposes of Rolls-Royce cars.
That it would be as well—if not better—if certain vertisements were confined to facts.
Chat as well as Frood's Ferodo lining fabric we to have Frood's Metarnorfo lining fabric.
chat George Grossnaith is not doing badly—conering—as Inspector of " Tank " Construction.
['hat some farmers are being worse handicapped the petrol restrictions than are many other users. Of more petrol bursting to get out.
That steam sells steel shells—very often.
Of a big transport appointment for Russia.
That coal-gas, though not a liquid, est aliquid.
They're not all clay tons at Stamp End Works.
That it's a case of Foster and faster at Lincoln. More accounts of no accounts yet many accountings.
Of a 350 h.p. engine weighing only 0.4 lb. per b.h.p.
That the men who are making most money are saying the least.
That composite build will not for much longer be billed as of British build.
That the Fund's despatches in November and December may reach 600 eases of comforts.
That the G.N.S. Ry. is being heartily talked about for reducing the Rosehearty mgtarbus service.
That a wish to see the Fund's continuing prosperity in no way detracts from a continuing hope for its brevity.
That char-k-bancs owners are showing both their gratitude and their good sense by paying R2 12s. 6d. each to join the C.M:U.A.
Of a make of chassis of which a large user said the only things that he found bad were the design, the material and the workmanship.