Our Campaign Comforts Fund.
30th November 1916
Page 15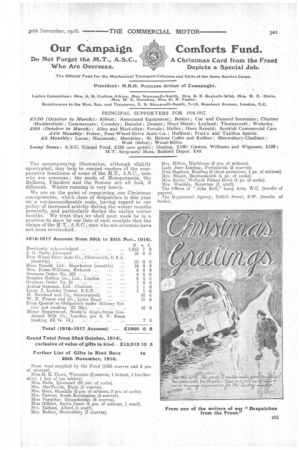 Page 15, 30th November 1916 —
Our Campaign Comforts Fund.
Close
Do Not Forget the M.T., A.S.C., Who Are Overseas. A Christmas Card from the Front Depicts a Special Job.
The Official Fund for the Mechanical Transport Columns and Units of the Army Service Corps,
President: H.R.H. Princess Arthur of Connaught.
Ladies Committee Mrs. A, R. Crofton Atkins, Mrs. Shrapnell-Smith, Mrs. R. K. Bagnall-Wild, Mrs. H. E. Blain, Mrs. W. E. Donohue, Mrs. H. N. Foster. Remittances to the Hon. Sec. and Treasurer, E. S. Shrapnell-Smith, 7-15, Rosebery Avenue, Landon, s.C.
PRINCIPAL SUPPORTERS FOR 1916-1917. £120 (October to March): Albion; Associated Equipment ; Belsize ; Car and General Insurance; Clayton (Huddersfield); Commercars; Crossley ; Daimler ; Dennis; Hoyt Metal ; Leyland; Thornycroft ; Wolseley. £60 (October to March): Alley and MacLellan; Ferodo ; Halley; Hans Renold; Scottish Commercial Cars £10 Monthly: Foden , Four-Wheel-Drive Auto Co.; Hanford; Pratt's and Taxibus Spirits. £5 Monthly: Lucas ; Macintosh ; lvlaudslay; St. Helens Cable and Rubber; Shrewsbury-Challiner; Wolf (Solex); Wood-Milne. Lump Sums: A.S.C. (Corps) Fund, £250 (one grant); Dunlop, MO; Gaston, Williams and Wigmore, £100; M.T. Sergeants' Mess, Bulford Depot, £40.
The accompanying illustration, although slightly apocryphal, may help to remind readers of the comparative loneliness of some of the M.T., A.S.C., men who are overseas; the muds of Mesopotamia, the Balkans, Flanders and the Somme are all bad, if different. Winter running is very heavy.
We are on the point of completing our Christmas consignments, which class of despatches is this year on a not-inconsiderable scale, having regard to our policy of increased activity during the winter mouths generally, and particularly during the earlier winter months. We trust that we shall next week be in a position to show by our lists of cash receipts that the claims of the M.T., A.S.C., men who are overseas have not been overlooked.
From wool supplied by the Fund (1435 scarves and 5 pm of mittensl.
Miss M. E. Thorh, Worcester (3 scarves, 1 helmet, 1 him-Aker chief, 1 box of tea tablets).
Miss Earle, Liverpool (60 prs. of rocks). Mrs. MacTavish, Elgin 12 scarves). Mrs. Kent, Shanklin (2 prs of mittens, 2 prs. of socks). Mrs. Fawcus, South Kensington 12 scarves). Miss Farquhar. Groombridge (3 scarves). Miss Gilbert, Earl's Court. (4 pea. of mittens, 1 scarf). Airs. Talham, Alford (1 scarf). Mrs. Bather, Shrewsbury (3 scarves). Mrs. Hilton, Blackburn (2 pre. of mittens). Lady Jane Lindsay, Portpatrick (2 scarves). Miss Hopkins, Reading (6 chest protectors, 1 pr. of mittens Mrs. Stuart, Bournemouth (1 pr. of socks). Miss Sevier, Welbock Palace Hotel (1 pr. of socks).
Mrs. Wardale, Shrewton (1 scarf). The Offices of "John Bull," Long Acre, W.C. (bundle of papers).
The Regimental Agency, Tothill Street, S.W. (bundle of
books).
Tags
People
:
Gilbert
,
Wardale
,
Jane Lindsay
,
Landon
,
Kent
,
Stuart
,
Hilton
,
M. E. Thorh
,
E. S. Shrapnell-Smith
,
Earle
,
W. E. Donohue
,
H. N. Foster
,
Arthur
,
R. K. Bagnall-Wild
,
Bather
,
Hans Renold