Small Traders' Experiences with Light Vans.
30th November 1916
Page 12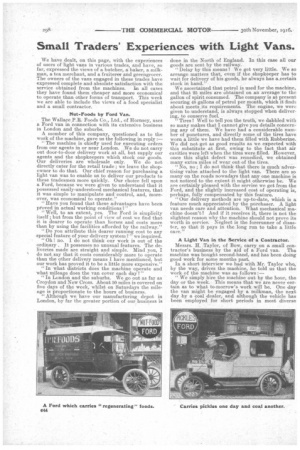 Page 13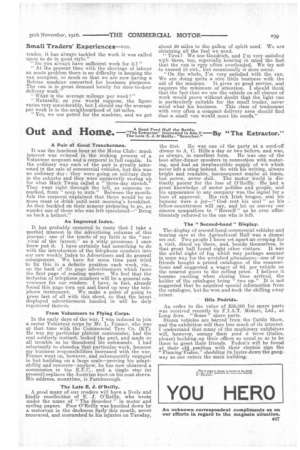 Page 12, 30th November 1916 —
Small Traders' Experiences with Light Vans.
Close
We have dealt, on this page, with the experiences of users of light vans in various trades, and have, so far, expressed the views of a butcher, a baker, a milkman, a tea merchant, and a fruiterer and greengrocer. The owners of the vans engaged in these trades have expressed complete and absolute satisfaction with the service obtained from the machines. In all cases they have found them cheaper and more economical to operate than other forms of transport. This week we are able to include the views of a food specialist and a small contractor.
Nut-Foods by Ford Van.
The Wallace.P.R. Foods Co., Ltd., of Hornsey, uses a Ford van in connection with its extensive business in London and the suburbs.
A member of this company, questioned as to the work of the machine, gave us the following in reply :— " The machine is chiefly used for executing orders from our agents in or near London. We do not carry out door-to-door delivery work at all, but supply our agents and the shopkeepers which stock our goods. Our deliveries are wholesale only. We do not directly cater for the retail trade ; we leave the shopowner to do that. Our chief reason for purchasing a light van was to enable us to deliver our products to these tradesmen more quickly. Our choice fell upon a. Ford, because we were given to understand that it possessed easily-understood mechanical features, that it was simple to manipulate and control, and, moreover, was economical to operate."
"Have you found that these advantages have been proved in actual working conditions 1 " "Well, to an extent, yes. The Ford is simplicity itself ; but from the point of view of cost we find that it is dearer to operate than horses and costs more than by using the facilities afforded by the railway." "Do you attribute this dearer running cost to any special feature of your delivery system?" we inquired.
" Oh ! no. I do not think our work is out of the ordinary. It possesses no unusual features. The deliveries made are straight and simple. Mind you, I do not say that it costs considerably more to operate than the other delivery means I have mentioned, but our work has proved it to be a little more expensive."
"In what districts does the machine operate and what mileage does the van cover each day ? " "In London and the suburbs. We go out as far as Croydon and New Cross. About 50 miles is covered on five days of the week, whilst on Saturdays the mileage is proportionate to the hours of business. "Although we have our manufacturing depot in London, by far the greater portion of our business is done in the North of England. In this case all our goods are sent by the railway.
"Delay by this means e get very little. We so arrange matters that, even if the shopkeeper has to wait for delivery of his goods, he always has a certain stock in hand.'
We ascertained that petrol is used for the machine, and that 25 miles are obtained on an average to the gallon of spirit consumed. The company is at present securing 45 gallons of petrol per month, which it finds about meets its requirements. The engine, we were given to understand is always stopped when delivering, to conserve fuel. Tires ? Well to tell you the truth, we dabbled with so many makes that I cannot give you details concerning any of them. We have had a considerable number of punctures, and directly some of the tires have worn a little we have had them filled with Rubberine. We did not get as good results as we expected with this substitute at first, owing to the fact that air cavities were left when the tires were filled. However, once this slight defect was remedied, we obtained many extra miles of wear out of the tires. "No, no ; I do not think that there is much advertising value attached to the light van. There are so many on the roads nowadays that any one machine is not noticed to the extent it might otherwise be. We are certainly pleased with the service we get from the Ford, and the slightly increased cost of operating is, perhaps, fully compensated by this feature. "Our delivery methods are up-to-date, which is a feature much appreciated by the purchaser. A light van needs care and attention. What mechanical machine doesn't? And if it receives it, there is not the slightest reason why the machine should not prove its worth in service. Neglect is the forerunner of disaster, so that it pays in the long run to take a little care."
A Light Van in the Service of a Contractor.
Messrs. H. Taylor, of Bow, carry on a small contractor's business by the aid of a Ford van. The machine was bought second-hand, and has been doing good work for some months past. In a short interview we had with Mr. Taylor who, by the way, drives the machine, he told us that the work of the machine was as follows :— "We simply hire the machine out by the hour, the day or the week. This means that we are never certain as to what to-morrow's work will be. One day the van might be engaged by a milkman, the next day by a coal dealer, and although the vehicle has been employed for short periods in most diverse trades, it has always tackled the work it was called upon to do in good style."
" Do you always have sufficient work for it?"
" At the present time with the shortage of labour an acute problem there is no difficulty in keeping the van occupied, so much so that we are now having a Belsize machine converted for business purposes. The van is in great demand locally for door-to-door delivery work.'' " What is the average mileage per week?"
"Naturally, as you would suppose, the figure varies very considerably, but 1 should say the average per week is in the neighbourhood of 150 miles.
"Yes, we use petrol for the machine, and we get
about 20 miles to the gallon of spirit used. Wu are obtaining all the fuel we need.
" Tires'? We use Goodrich, and I'm very satisfied wisth them, too, especially bearing in mind the fact that the van is very often overloaded. We try not to exceed 10 cwt., but occasionally it does occur.
" On the whole, I'm very satisfied with the van. We are doing quite a nice little business with the aid of the machine. It gives us good service, and requires the minimum of attention. I should think that the fact that we use the vehicle on all classes of work would prove without doubt that the light van is particularly suitable for the small trader, never mind what his business. This class of tradesman with very often a compact delivery area should find that a small van would meet his needs."