BRIEFS Beware of being a
30th May 1996
Page 44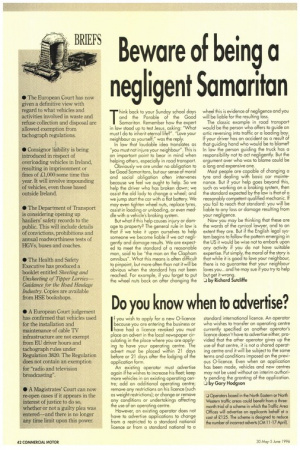 Page 44, 30th May 1996 —
BRIEFS Beware of being a
Close
negligent Samaritan
Think back to your Sunday school days and the Parable of the Good Samaritan Remember how the expert in law stood up to test Jesus, asking: "What must I do to inherit eternal life?". "love your neighbour as yourself," was the reply.
In law that laudable idea translates as "you must not injure your neighbour". This is an important point to bear in mind when helping others, especially in road transport.
Obviously we are under no obligation to be Good Samaritans, but our sense of moral and social obligation often intervenes because we feel we ought to help. So we help the driver who has broken down; we assist the old lady to change a wheel; and we jump start the car with a flat battery. We may even tighten wheel nuts, replace tyres, assist in loading or unloading, or even meddle with a vehicle's braking system.
But what if this help causes injury or damage to property? The general rule in law is that if we take it upon ourselves to help someone we become liable if we act negligently and damage results. We are expected to meet the standard of a reasonable man, said to be "the man on the Clapham omnibus". What this means is often difficult to pinpoint, but more often than not it will be obvious when the standard has not been reached. For example, if you forget to put the wheel nuts back on after changing the wheel this is evidence of negligence and you will be liable for the resulting loss.
The classic example in road transport would be the person who offers to guide an artic reversing into traffic or a loading bay. If your driver Has an accident as a result of that guiding hand who would be to blame? In law the person guiding the truck has a responsibility not to act negligently. But the argument over who was to blame could be a long and expensive one.
Most people are capable of changing a tyre and dealing with basic car maintenance. But if your kelp goes beyond this, such as working on a braking system, then the standard expected by the law is that of a reasonably competent qualified mechanic. If you fail to reach that standard: you will be liable to any loss or damage resulting from your negligence. Now you may be thinking that these are the words of the cynical lawyer, and to an extent they are. But if the English legal system begins to follow the pattern emerging in the US it would be wise not to embark upon any activity if you do not have suitable expertise. Put simply, the moral of the story is that while it is good to love your neighbour, there is no guarantee that your neighbour loves you.. and he may sue if you try to help but get it wrong.
J by Richard Sutcliffe