K evin Barnaby and Dee Laird are relative newcomers to haulage.
30th May 1996
Page 40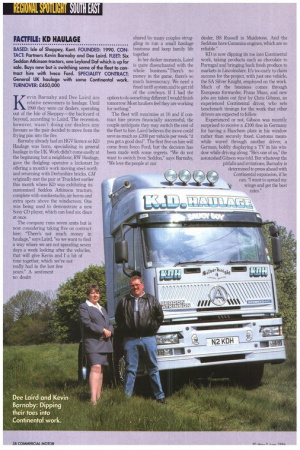 Page 40, 30th May 1996 —
K evin Barnaby and Dee Laird are relative newcomers to haulage.
Close
Until 1990 they were car dealers, operating out of the Isle of Sheppey—the backyard of beyond, according to Laird. The recession, however, wasn't doing car dealers any favours so the pair decided to move from the frying pan into the fire.
Barnaby already had an IIGV licence so KD Haulage was born, specialising in general haulage in the UK. Work didn't come easily at the beginning but a neighbour, RW Haulage, gave the fledgling operator a kickstart by offering a month's work moving steel north and returning with Derbyshire bricks. CM originally met the pair at Truckfest earlier this month where KD was exhibiting its customised Seddon Atkinson tractors, complete with smokestacks, air horns and extra spots above the windscreen. One was being used to demonstrate a new Sony CD player, which can load six discs at once.
The company runs seven units but is now considering taking five on contract hire: "There's not much money in haulage," says Laird, "so we want to find a way where we are not spending seven days a week looking after the vehicles, that will give Kevin and I a bit of time together, which we've not really had in the last few years." A sentiment no doubt shared by many couples struggling to run a small haulage business and keep family life together.
In her darker moments, Laird is quite disenchanted with the whole business."There's no money in the game, there's so much bureaucracy. We need a fixed tariff system and to get rid of the cowboys. If I had the option to do something different I would finish tomorrow Most hauliers feel they are working for nothing" The fleet will maximise at 10 and if contract hire proves financially successful, the couple anticipate they may switch the rest of the fleet to hire. Laird believes the move could save as much as .£200 per vehicle per week "if you get a good dear. The first five on hire will come from Iveco Ford, but the decision has been made with some regrets. "We do not want to switch from Seddon," says Barnaby, "We love the people at our dealer, BS Russell in Maidstone. And the Seddons have Cummins engines, which are so reliable."
KD is now dipping its toe into Continental work, taking products such as chocolate to Portugal and bringing back fresh produce to markets in Lincolnshire. It's too early to claim success for the project, with just one vehicle, the SA Silver Knight, employed on the work. Much of the business comes through European forwarder, Frans Maas, and new jobs are taken out first by Chris Gibson, an experienced Continental driver, who sets benchmark timings for the work that other drivers are expected to follow.
Experienced or not, Gibson was recently surprised to receive a £100 fine in Germany for having a Hazchem plate in his window rather than securely fixed. Customs meanwhile waved through another driver, a German, boldly displaying a TV in his window while driving along. "He's one of us," the astonished Gibson was told. But whatever the pitfalls and irritations, Barnaby is determined to press ahead with Continental expansion, if he
can. "I want to spread my wings and get the best