te the weight scale (7.5-15 4t tka tonnes) is rela 0 accounting for tively small,
30th May 1996
Page 30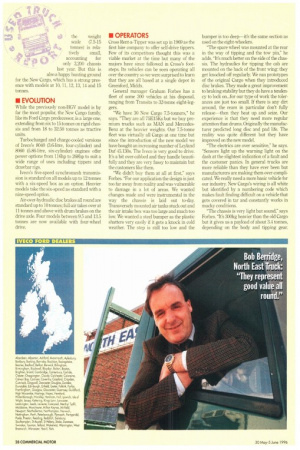 Page 31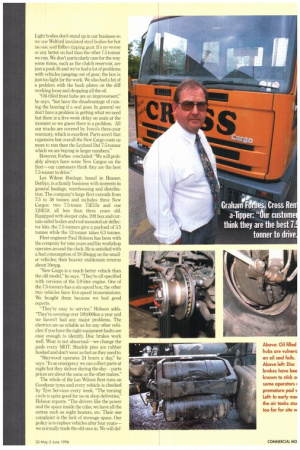 Page 32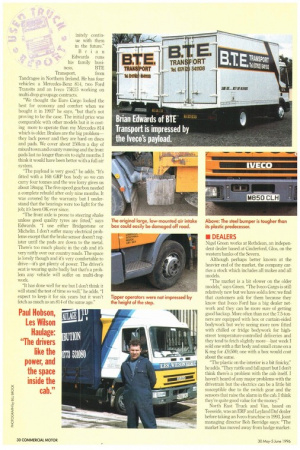 Page 33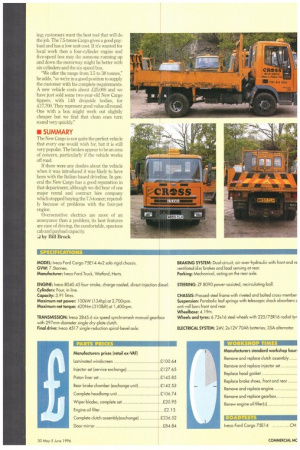 Page 30, 30th May 1996 —
te the weight scale (7.5-15 4t tka tonnes) is rela 0 accounting for tively small,
Close
only 3200 chassis last year. But this is also a happy hunting ground for the New Cargo, which has a strong presence with models at 10, 11, 12, 13, 14 and 15 tonnes.
• EVOLUTION
While the previously non-HGV model is by far the most popular, the New Cargo family, like its Ford Cargo predecessor, is a large one, extending from six to 15 tonnes on rigid chassis and from 18 to 32.50 tonnes as tractive units.
Turbocharged and charge-cooled versions of Iveco's 8040 (3.6-litre, four-cylinder) and 8060 (5.86-litre, six-cylinder) engines offer power options from 116hp to 268hp to suit a wide range of uses including tippers and drawbar rigs.
Iveco's five-speed syncluornesh transmission is standard on all models up to 12 tonnes with a six-speed box as an option. Heavier models take the six-speed as standard with a nine-speed option.
Air-over-hydraulic disc brakes all round are standard up to 10 tonnes: full-air takes over at 11 tonnes and above with drum brakes on the drive axle. Four models between 9.5 and 13.5 tonnes are now available with four-wheel drive.
• OPERATORS
Cross Rent-a-Tipper was set up in 1969 as the first hire company to offer self-drive tippers. Few of its competitors thought this was a viable market at the time but many of the majors have since followed in Cross's footsteps. Its vehicles can be seen operating all over the country so we were surprised to learn that they are all based at a single depot in Greenford, Middx.
General manager Graham Forbes has a fleet of some 300 vehicles at his disposal, ranging from Transits to 32-tonne eight-leggers.
"We have 30 New Cargo 7.5-tormers," he says. "They are all 75E15Ks but we buy premium trucks such as MAN and MercedesBenz at the heavier weights, Our 7.5-tonne fleet was virtually all Cargo at one time but since the introduction of the new model we have bought an increasing number of Leyland Daf 45.130s. The Iveco is very good to drive. It's a bit over-cabbed and they handle beautifully and they are very fussy to maintain but the customers like them.
"We didn't buy them at all at first," says Forbes. "For our application the design is just too far away from reality and was vulnerable to damage in a lot of areas. We wanted changes made and were instrumental in the way the chassis is laid out to-day. Transversely mounted air tanks stuck out and the air intake box was too large and much too low. We wanted a steel bumper as the plastic shatters very easily if it gets a knock in cold weather. The step is still too low and the bumper is too deep—it's the same section as used on the eight-wheelers.
"The spare wheel was mounted at the rear in the way of tipping and the tow pin," he adds. "It's much better on the side of the chassis. The hydraulics for tipping the cab are mounted on the back of the front wing: they get knocked off regularly. We ran prototypes of the original Cargo when they introduced disc brakes. They made a great improvement to braking stability but they do have a tendency to lock on...for our type of work the tolerances are just too small. If there is any dirt around, the rears in particular don't fully release—then they heat up and seize. Our experience is that they need more regular attention than drums. Originally the manufacturer predicted long disc and pad life. The reality was quite different but they have improved on the new model.
"The electrics are over sensitive," he says. "Sensors light up the warning tight on the dash at the slightest indication of a fault and the customer panics. In general trucks are more reliable than they have ever been but manufacturers are making them over-complicated. We really need a more basic vehicle for our industry New Cargo's wiring is all white but identified by a numbering code which makes fault finding difficult on a vehicle that gets covered in tar and constantly works in mucky conditions.
"The chassis is very light but sound." says Forbes. "It's 300kg heavier than the old Cargo but it gives us a payload of about 3.4 tonnes, depending on the body and tipping gear. Light bodies don't stand up in our business so we use Welford insulated steel bodies for hot tat mac and Edbro tipping gear. It's no worse or any better on fuel than the other 7.5 tonner we run. We don't particularly care for the way some items, such as the clutch reservoir, are just a push fit and we've had a lot of problems with vehicles jumping out of gear; the box is just too light for the work. We also had a bit of a problem with the back plates on the diff working loose and dropping all the oil.
"Oil-filled front hubs are an improvement," he says, "but have the disadvantage of ruining the bearing if a seal goes. In general we don't have a problem in getting what we need but there is a five-week delay on seals at the moment so we guess there is a problem. All our trucks are covered by Iveco's three-year warranty, which is excellent. Parts aren't that expensive but overall the New Cargo costs us more to run than the Leyland Daf 7.5-tonner which we are buying in larger numbers."
However, Forbes concluded: "We will probably always have some New Cargos on the fleet—our customers think they are the best 7,5-tonner to drive."
Les Wilson Haulage, based in Heanor, Derbys, is a family business with interests in general haulage, warehousing and distribution. The company's large fleet extends from 7.5 to 38 tonnes and includes three New Cargos: two 7.5-tonne 75E15s and one 120E18, all less than three years old. Equipped with sleeper cabs, 19ft box and curtain-sided bodies and roof-mounted air deflector kits, the 7.5-tonners give a payload of 3.5 tonnes while the 12-tonner takes 6.3 tonnes.
Fleet engineer Paul Hobson has been with the company for nine years and his workshop operates around the clock. He is satisfied with a fuel consumption of 19-20mpg on the smaller vehicles; their heavier stablemate returns about 16mpg.
"New Cargo is a much better vehicle than the old model," he says. "They're all specified with versions of the 5.9-litre engine. One of the 7.5-tonners has a six-speed box; the other two vehicles have five-speed transmissions. We bought them because we had good reports.
"They're easy to service," Hobson adds. "They're covering over 100,000km a year and we haven't had any major problems. The electrics are as reliable as for any other vehicles: if you have the right equipment faults are easy enough to identify Disc brakes work well. Wear is not abnormal—we change the pads every MOT Shackle pins are rubber bushed and don't wear as fast as they used to.
"Sherwood operates 24 hours a day," he says. "In an emergency we can collect parts at night but they deliver during the day--parts prices are about the same as the other makes."
The whole of the Les Wilson fleet runs on Goodyear tyres and every vehicle is checked by Tyre Services every week. "The turning circle is quite good for us on shop deliveries," Hobson reports. "The drivers like the power and the space inside the cabs; we have all the extras such as night heaters, etc_ Their one complaint is the lack of stowage space. Our policy is to replace vehicles after four years— we normally trade the old ones in. We will def initely continue with them in the future." Brian Edwards runs his family busi ness, BTE Transport, from Tandragee in Northern Ireland. He has four vehicles: a Mercedes-Benz 814, two Ford Transits and an blew 75E15 working on multi-drop groupage contracts.
"We thought the Euro Cargo looked the best for economy and comfort when we bought it in 1993" he says. "but that's not proving to be the case. The initial price was comparable with other models but it is costing more to operate than my Mercedes 814 which is older. Brakes are the big problem— they lack power and they are hard on discs and pads. We cover about 250km a day of mixed town and county running and the front pads last no longer than six to eight months. I think it would have been better with a full-air System.
"The payload is very good," he adds. "It's fitted with a 16ft GRP box body so we can carry four tonnes and the wee lorry gives us about 18mpg. The five-speed gearbox needed a complete rebuild after only nine months. It was covered by the warranty but I understand that the bearings were too light for the job; ifs been OK ever since.
"The front axle is prone to steering shake unless good quality tyres are fitted," says Edwards. "I use either Bridgestone or Michelin. I don't suffer many electrical problems except that the brake sensor doesn't register until the pads are down to the metal. There's too much plastic in the cab and it's very rattly over our country roads. The space is lovely though and it's very comfortable to drive—it's got plenty of power. The driver's seat is wearing quite badly but that's a problem any vehicle will suffer on multi-drop work.
"It has done well for me but I don't think it will stand the test of time so well,'' he adds. "I expect to keep it for six years but it won't fetch as much as an 814 of the same age." Nigel Green works at Rothdean, an independent dealer based at Cinderford, Glos, on the western banks of the Severn.
Although perhaps better known at the heavier end of the market, the company carries a stock which includes all makes and all models.
"The market is a bit slower on the older models," says Green. "The Iveco Cargo is still relatively new but we have sold a few; we find that customers ask for them because they know that lveco Ford has a big dealer network and they can be more sure of getting good backup. More often than not the 7.5-tonners are equipped with box or curtain-sided bodywork but we're seeing more now fitted with chilled or fridge bodywork for highstreet temperature-controlled deliveries and they tend to fetch slightly more—last week! sold one with a flat body and small crane on a K-reg for £9,500; one with a box would cost about the same.
"The plastic on the interior is a bit finicky," he adds. "They rattle and fall apart but I don't think there's a problem with the cab itself. I haven't heard of any major problems with the drivetrain but the electrics can be a little bit susceptible due to the switch gear and the sensors that raise the alarm in the cab. I think they're quite good value for the money."
North East Truck and Van, based on Teesside, was an ERF and Leyland Daf dealer before taking an Iveco franchise in 1993. Joint managing director Bob Berridge says: "The market has moved away from badge market ing; customers want the best tool that will do the job. The 7.5-tonne Cargo gives a good payload and has a low unit cost. If it's wanted for local work then a four-cylinder engine and five-speed box may do: someone running up and down the motorway might be better with six cylinders and the six-speed box.
"We offer the range from 3.5 to 38 tonnes," he adds, "so we're in a good position to supply the customer with his complete requirements. A new vehicle costs about £25,000 and we have just sold some two-year-old New Cargo tippers, with 14-ft dropside bodies, for £17,700. They represent good value all round. One with a box might work out slightly cheaper but we find that clean ones turn round very quickly"
• SUMMARY
The New Cargo is not quite the perfect vehicle that every one would wish for, but it is still very popular. The brakes appear to be an area of concern, particularly if the vehicle works off road.
If there were any doubts about the vehicle when it was introduced it was likely to have been with the Italian-based driveline, In general the New Cargo has a good reputation in that department, although we did hear of one major rental and contract hire company which stopped buying the 7.5-tonner; reputedly because of problems with the four-pot engine.
Oversensitive electrics are more of an annoyance than a problem; its best features are ease of driving, the comfortable, spacious cab and payload capacity
by Bill Brock