I:1 or some time the 1 litwk had tried to
30th May 1996
Page 24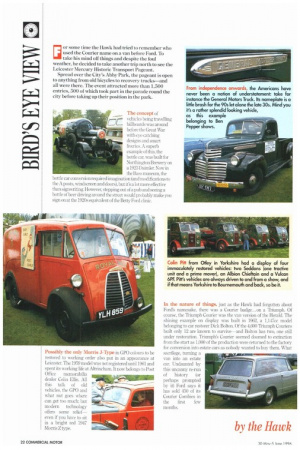 Page 24, 30th May 1996 —
I:1 or some time the 1 litwk had tried to
Close
remember who used the Courier name on a van before Ford. To take his mind off things and despite the foul weather, he decided to take anoi her trip north to see the Leicester Mercury Historic Transport Pageant.
Spread over the City's Abby Park, the pageant is open to anything from old bicycles to recovery trucks—and all were there. The event attracted more than 1,500 entries, 500 of which took part in the parade round the city before taking up their position in the park.
The concept of vehicles being travelling billboards was around before the Great War with eye-catching designs and smart liveries. A superb example of this, the bottle car. was built for Northington Brewery on a 1923 Daimler. Now in the Bass museum, the bottle car conversion required imagination (and modifications to the A posts, windscreen and doors), but it's a lot more effective than signwriting. However, stepping out of a pub and seeing a bottle of beer driving around the street would probably make you sign on at the 1920s equivalent of the Betty Ford clinic.
Possibly the only Morris J-Type in GPO colours to be restored to working order also put in an appearance at Leicester. The 1959 model was not registered until 1961 and spent its working life at Altrincham. It now belongs to Post
Office memorabilia dealer Cohn Ellis. All this talk of old vehicles, the GPO and what nut goes where can get too much: but modern technology offers some relief— even if you have to sit in a bright red 1947 Morris Z type.
In the nature of things, just as the Hawk had forgotten about Ford's namesake, there was a Courier badge...on a Triumph. Of course, the Triumph Courier was the van version of the Herald. The shining example on display was built in 1962, a 1,147cc model belonging to car restorer Dick Bolton. Of the 4,600 Triumph Couriers built only 12 are known to survive—and Bolton has two, one still under restoration. Triumph:4 Courier seemed doomed to extinction from the start as 1,000 of the production were returned to the factory for conversion into estate cars as nobody wanted to buy them. What sacrilege, turning a van into an estate car. Undaunted by this uncanny re-run of history (or perhaps prompted by it) Ford says it has sold 450 of its Courier Combies in
the first few months.