United scraps national deal
30th May 1996
Page 16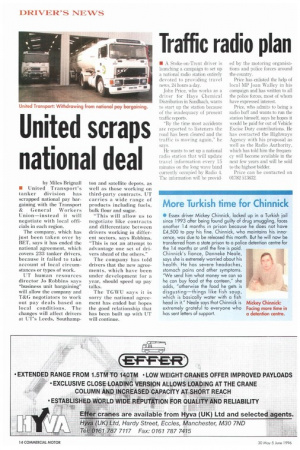 Page 16, 30th May 1996 —
United scraps national deal
Close
by Miles Brignall • United Transport's tanker division has scrapped national pay bargaining with the Transport & General Workers Union—instead it will negotiate with local officials in each region.
The company, which has just been taken over by BET, says it has ended the national agreement, which covers 233 tanker drivers, because it failed to take account of local circumstances or types of work.
UT human resources director Jo Robbins says "business unit bargaining" will allow the company anti T&(; negotiators to work out pay deals based on local conditions. The changes will affect drivers at UT's Leeds, Southamp ton and satellite depots, as well as those working on third-party contracts. UT carries a wide range of products including fuels, bulk flour and sugar.
-This will allow us to negotiate like contracts and differentiate between drivers working in different sectors. says Robbins. "This is not an attempt to advantage one set of drivers ahead of the others."
The company has told drivers that the new agreements, which have been under development for a year, should speed up pay talks.
The TGWU says it is sorry the national agreement has ended but hopes the good relationship that has been built up with UT will continue.