UK blocks harmonisation
30th May 1996
Page 14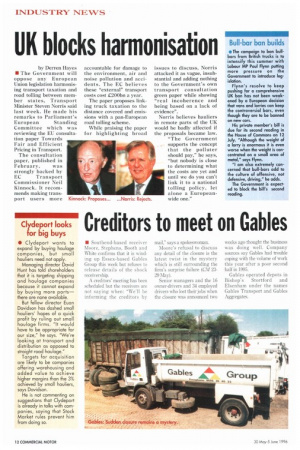 Page 14, 30th May 1996 —
UK blocks harmonisation
Close
by Derrell Hayes • The Government will oppose any European Union legislation harmonising transport taxation and road tolling between member states, Transport Minister Steven Norris said last week. He made his remarks to Parliament's The consultation paper, published in February, was strongly backed by EC Transport Commissioner Neil Kinnock. It recommends making transport users more accountable for damage to the environment, air and noise pollution and accidents. The EC believes these "external" transport costs cost C200bn a year.
The paper proposes linking truck taxation to the distance covered and emissions with a pan-European road tolling scheme.
While praising the paper for highlighting broad issues to discuss, Norris attacked it as vague, insubstantial and adding nothing to the Government's own transport consultation green paper while showing "real incoherence and being based on a lack of evidence".
Norris believes hauliers in remote parts of the UK would be badly affected if the proposals became law. "The Government supports the concept that the polluter should pay," he says, "but nobody is close to determining what the costs are yet and until we do you can't link it to a national tolling policy, let alone a Europeanwide one."