Creditors to meet on Gables
30th May 1996
Page 14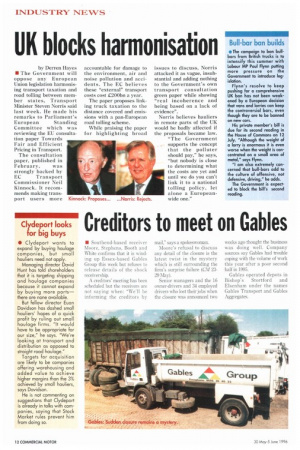 Page 14, 30th May 1996 —
Creditors to meet on Gables
Close
• Southend-based receiver Moore. Stephens. Booth and White confirms that it is winding up Essex-based Gables Group this week but refuses to release details of the shock receivership.
A a-editors' meeting has been scheduled but the receivers are not saying when: "We'll be informing the creditors by
mail." says a spokeswoman.
Moore's refusal to discuss any detail of the closure is the latest twist in the mystery which is still surrounding the firm's surprise failure (CM 2329 May).
Senior managers and the 16 owner-drivers and 34 employed drivers who lost their jobs when the closure was announced two weeks ago thought the business was doing well. Company sources say Gables had trouble coping with the volume of work this year after a poor second half in 1995.
Gables operated depots in Bishop's Stortford and Elsenham under the names Gables Transport and Gables Aggregates.