Franchisees to sue ANC
30th May 1996
Page 12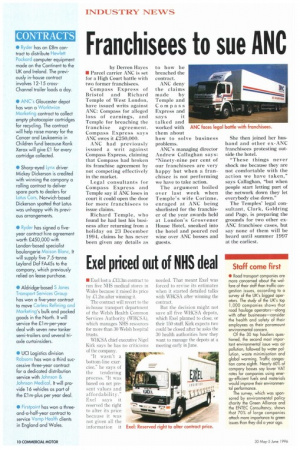 Page 12, 30th May 1996 —
Franchisees to sue ANC
Close
by Derrell Hayes
• Parcel carrier ANC is set for a High Court battle with two former franchisees.
Compass Express of Bristol and Richard Temple of West London, have issued writs against ANC: Compass for alleged loss of earnings, and Temple for breaching the franchise agreement. Compass Express says ANC owes it £250,000.
ANC had previously issued a writ against Compass Express, claiming that Compass had broken its franchise agreement by not competing effectively in the market.
Legal consultants for Compass Express and Temple say if ANC loses in court it could open the door for more franchisees to issue claims.
Richard Temple, who found he had lost his business after returning from a holiday on 23 December 1994, claims he has never been given any details as to how he breached the contract.
ANC deny the claims made by Temple and Compass Express and
says it talked and worked with them about how to solve business problems.
ANC's managing director Andrew Callaghan says: "Ninety-nine per cent of our franchisees are very happy but when a franchisee is not performing we have to take action.
The argument boiled over last week when Temple's wife Corinne, enraged at ANC being shorlisted for the franchiser of the year awards held at London's Grosvenor House Hotel, sneaked into the hotel and poured red wine over ANC bosses and guests. She then joined her husband and other ex-ANC franchisees protesting outside the hotel.
"These things never shock me because they are not comfortable with the action we have taken," says Callaghan, "but when people start letting part of the network down they let everybody else down."
The Temples' legal consultant, Clark, Goldring and Page, is preparing the grounds for two other exANC franchisee cases, but say none of them will be heard until summer 1997 at the earliest.