A Well-Designed Utility Body
30th May 1947
Page 50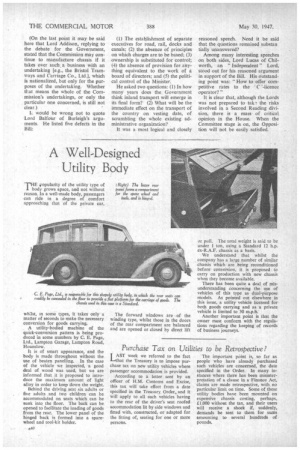 Page 50, 30th May 1947 —
A Well-Designed Utility Body
Close
THE iopularity of the utility type of body grows apace, and not without reason. In a well-made body, passengers can ride in a degree of comfort approaching that of the private car,
whast, in some types, it takes only a matter of seconds to make the necessary conversion for goods carrying.
A utility-bodied machine of the quick-conversion pattern is being produced in some numbers by C. E. Page, Ltd., Lampton Garage, Lampton Road, Hounslow.
It is of smart appearance, and the body is made throughout without the use of beaten panelling. In the case of the vehicle we inspected, a good deal of wood was used, but we are informed that it is proposed to introduce the maximum amount of light alloy in order to keep down the weight.
Behind the driving seat six adults or five adults and two children can be accommodated on seats which can be sunk into the floor. The back can be opened to facilitate the loading of goods from the rear. The lower panel of the hinged back is formed into a sparewheel and tool-kit holder. The forward windows are of the winding type, whilst those in the doors of the rear compartment are balanced and are opened or closed by direct lift or pull. The total weight is said to be under 1 ton, using a Standard 12 h.p. ex-R.A.F. chassis as a basis.
We understand that whilst the company has a large number of similar chassis which are being reconditioned before conversion, it is proposed to carry on production with new chassis when they become available.
There has been quite a deal of misunderstanding concerning the use of vehicles of this type as dual-purpose models. As pointed out elsewhere in this issue, a utility vehicle licensed for both goods carrying and as a private vehicle is limited to 30 m.p.h.
Another important point is that the owner must conform with the regulations regarding the keeping of records of business journeys.